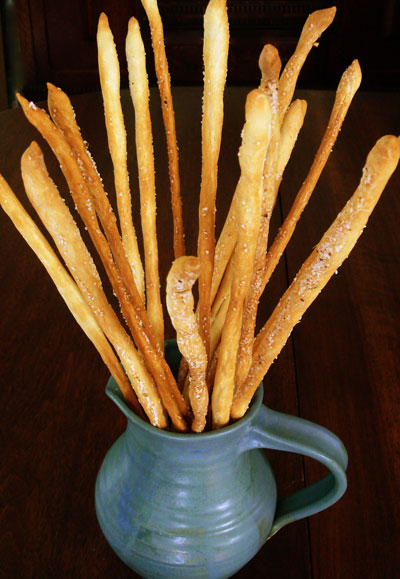 If you think you can't bake bread (which is probably a false notion, by the way), grissini are a sure-fire way to fast success.
These thin bread sticks could not be simpler to make. If you love playing with dough, you'll get plenty of opportunity here. And who doesn't love their eminently nosh-able crunch, not to mention the visual panache a bouquet of these babies adds to the dinner table?
The recipe, adapted from Baking Illustrated by the editors of Cook's Illustrated magazine, uses a simple pizza dough. A food processor makes very short work of the mixing, but the dough may also be mixed by hand (7 to 8 minutes) or in a stand mixer (5 minutes).
If you don't need 64 grissini, refrigerate half the dough and make pizza for breakfast.
Grissini (Thin Bread Sticks)

Yield: 64 bread sticks
Time:
Mix: 2 – 10 minutes
Ferment: 1.5 – 2 hours
Divide/shape: 10 minutes per 16 bread sticks
Bake: 25 – 30 minutes per 16 bread sticks
Ingredients:
623 g flour
6.5 g (2 t.) instant yeast
9 g (1.5 t.) salt
28 g (2 T.) olive oil
topping of your choice (I used a mixture of coarse Kosher salt, coarsely-ground pepper, and chopped fennel seed, as suggested by the original recipe)
Method:
Combine the flour, yeast, and salt in the bowl of a large food processor. Pulse a few times to combine.
Combine the water and olive oil in a liquid measuring cup. With the processor running, add the liquid to the dry ingredients in a steady stream.
Process until the dough is smooth and elastic, about 90 seconds.
Place the dough in a lightly oiled container. Cover the container and let the dough ferment at room temperature until doubled in volume, about 1.5 – 2 hours.
Preheat the oven to 350F. A baking stone and steam are not needed.
Line a large baking sheet with parchment paper.
Divide the dough into four equal pieces. The steps that follow will be repeated for each of the four pieces. Keep the pieces you're not working with covered.
On a floured counter, roll the dough out into a rectangle about 12 x 8 inches. The exact dimensions are not critical.
Cut the dough into 16 strips of equal width. A pizza cutter works very well for this.

Fold each strip over on itself (according to Baking Illustrated, this makes it stronger). On an unfloured surface, roll the strip into a long snake. Make it a bit longer than the length of your baking sheet, to allow for spring-back.

Place the snakes evenly spaced across the width of the parchment-lined baking sheet.
Lightly spray or brush the grissini with olive oil and sprinkle on the topping.

Bake at 350F for 25 – 30 minutes, until golden brown.
Cool on a wire rack.