Take good note of the title of this post: How I Maintain My Sourdough Starter. Yes, this really is all about me. If you talk to ten people you'll likely get ten different but perfectly good variations on starter maintenance. This is simply an account of what I do.
The reason I do it is because it works for me. I won't say I know nothing of the science behind it, nor that the science doesn't interest me. But mostly I do what I do because it works and I get bread I like from it. If what works for you is to feed your starter pencil shavings and sing "Uncle John's Band" before adding it to your dough, by all means keep doing that.
I keep one starter. It is a white starter at 100% hydration, meaning that I always feed it with equal parts of white flour and water, by weight. My current starter is one I started from scratch a few months ago.
Unless I am going to be out of town or otherwise unable to feed it, I keep my starter on my kitchen counter and feed it twice a day (approximately every 12 hours). Because planning ahead is not my forte, and because refrigerated starter needs to be taken out and fed for two or three days before baking to restore it to maximum vigor, and because I often bake with my starter more than once a week anyway, I decided to just keep it ready to go at all times.
Normally I maintain about 100 grams of starter. I generally use a ratio of around 1:5:5 (starter:flour:water, by weight). So at each feeding, I remove all but around 10 grams of starter from the container and add approximately 50 grams of water and an equal weight of my usual bread flour.
I shake the starter and water together vigorously before adding the flour; the theory is that this will introduce oxygen, which promotes yeast reproduction, into the mixture. The truth is, I don't know if that's really happening. It does get the starter nicely dispersed, though. Then I stir in the flour with a spoon (yes, a metal one; it doesn't hurt!).
I arrived at the 1:5:5 ratio simply by observing how much flour my starter seems to be able to "eat" in 12 hours. I'm looking for it to at least double in volume in about 8 hours, with a surface that is well pebbled with bubbles (but not foamy), and a light, airy texture like the inside of a perfectly-toasted marshmallow. If it's runny (like that marshmallow was really well-done), it's overripe. And if it's still thick and pasty, it has not peaked yet. Once it peaks, it stays pretty much there for a few hours.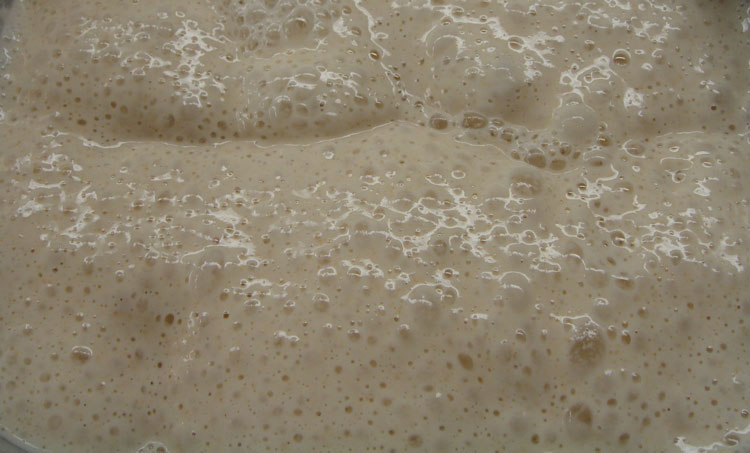 The temperature in my kitchen varies with the weather (especially in summer, since we don't have air conditioning) and yeast are "hungrier" when it's warmer. Therefore, I feed the starter more in hot weather. There have been times this summer when I have fed at 1:6:6, just following my observations and intuition. On the other hand, this winter, when my kitchen will be much cooler, I may reduce it to 1:4:4, and even less for the nighttime feeding.
If the starter is acting a little sluggish, I substitute whole rye flour for about 5% of the white flour, for one feeding. Rye is great for really getting fermentation going.
When I want to use the starter, I need more of it. On the feeding before mixing the bread, I just increase the amounts of everything, keeping the same starter:flour:water ratio, so I wind up with the amount I need for the dough, plus a little extra, to keep the starter going. It will be ready to use in 8 – 12 hours. (Okay, so I guess I am capable of planning a little, but it's only a few hours ahead, so it's manageable.)
But what if I need a rye starter for a particular bread, or a stiff one? Some people maintain multiple starters, but that's not going to happen for me; I know my limits. If I set my mind to being uncharacteristically organized, I'll start a few days ahead of time to convert a portion of the white starter into the one I need. But sometimes I just pretend, for example, that my white starter is actually a rye one, feed it once with rye flour to build it to the amount the recipe needs, call it good and hope for the best. It either works fine or not, but what the heck. This is bread, not birth control.

I am frugal by nature, and when I started this every-12-hour feeding business I admit I was bothered by the thought of throwing away all that excess starter. I decided my options were to A) find a different hobby, B) figure out something to do with the "waste," or C) get over it. I settled on a combination of B and C. English muffins are a fine way to use a small amount of starter, as are sourdough pancakes (stay tuned). But I still I end up throwing a dime's worth of flour and water in the compost now and then, and I've decided that's not worth losing sleep over.