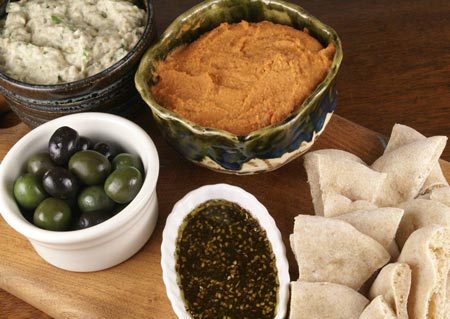 The 2010 February Daring Cooks challenge was hosted by Michele of Veggie Num Nums. Michele chose to challenge everyone to make mezze based on various recipes from Claudia Roden, Jeffrey Alford and Naomi Duguid.
Once in a while, it's nice to catch a break.
I do love challenges, I really really do, honest, but sometimes it's okay, when you realize that it's the day before Daring Cooks posting day and once again you've procrastinated the month away, sometimes it's okay to be able to say to yourself, "Relax, these are things you've made before. Stop hyperventilating, why don't you, and just make supper."
So, pita bread and hummus. Delicious and familiar. Does it count as Daring that I mixed it up, just a little, by throwing a roasted red pepper into the hummus, making half the pitas with sourdough starter instead of yeast (best pitas I've ever made, by the way), and adding some za'atar-spiked olive oil and my favorite middle eastern dip, baba ghanouj, to the platter?
No? Well, it was good, anyway.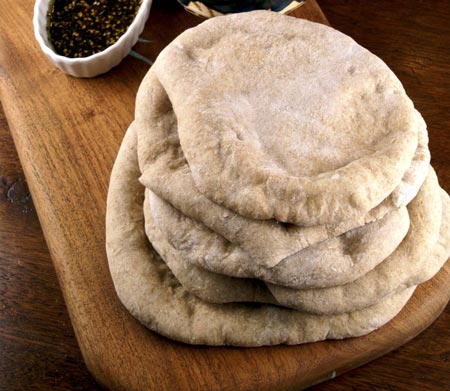 A few suggestions: Find more wonderful mezze from other Daring Cooks. Find recipes for the basic pita and hummus on our lovely host Michele's Veggie Num Nums. Find recipes for sourdough pitas and baba ghanouj below.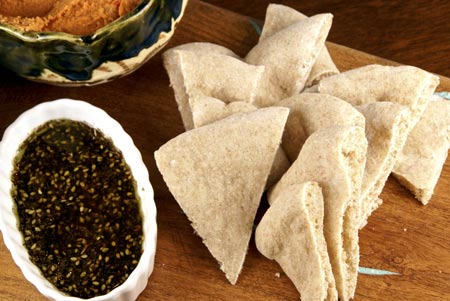 Sourdough Pitas
(adapted from Flatbreads and Flavors by Jeffrey Alford and Naomi Duguid)
Yield: 8 pitas
Time:
Mix: 10 minutes
Ferment: about 2 hours
Divide, rest, and roll out: 15 minutes
Bake: 2 – 3 minutes per batch of 1 – 3 pitas
Ingredients:
376 g 100%-hydration sourdough starter
188 g whole wheat flour
7.5 g (1-1/4 t.) salt
14 g olive oil (1.5 t.)
54 g water
Method:
Combine all ingredients in a medium bowl and mix briefly to forma a shaggy mass. It's OK if not all of the flour is incorporated at this point.
Turn the dough and any loose flour out onto the counter. Knead to incorporate all of the flour. At this point the dough should be soft and tacky (not sticky). If it's not tacky, add a bit more water. If it's sticky, knead for a bit, then add a touch more flour if it's still sticky.
Continue kneading for 8 – 10 minutes until the dough is smooth and elastic.
Place the dough back in its bowl. Cover and ferment about 2 hours, or until approximately doubled in volume.
Meanwhile, preheat the oven, with stone, to 450F.
Turn the dough out onto an unfloured counter and knead it a few times to degas it.
Divide the dough into 8 equal portions and shape each into a ball. Cover with a cloth and let rest for 10 minutes.
On a lightly floured counter, roll each ball into a disc about 7 inches in diameter. They will be very thin. You can roll the first two or three, and then more as the first batch is baking.
Using a peel lightly sprinkled with semolina, transfer two or three pitas to the baking stone. (If you don't have a peel, place the pitas on parchment paper and slide the parchment paper onto the stone.) Bake for 2 –3 minutes, until fully puffed. Don't overbake or the pitas will be dry. (If a few don't puff, they'll still be delicious.)
Repeat with the remaining pitas. As they come out of the oven, wrap them in a towel to keep them warm.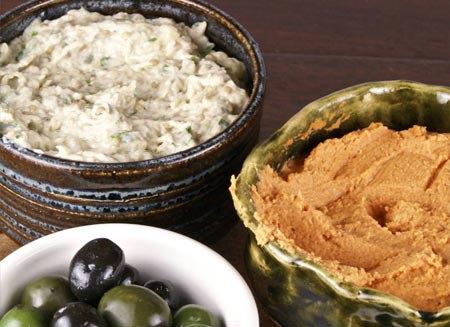 Baba Ghanouj
(adapted from The Moosewood Cookbook by Mollie Katzen)
Yield: about 2 cups
Time:
Roast eggplant: 45 minutes
Mix and chill: 2 hours
Ingredients:
one medium eggplant
juice of half a lemon
1/4 c. tahini (sesame paste)
1/4 c.. plain yogurt
1/4 c. finely chopped parsley
1 large clove garlic, crushed
1/2 t. salt, or to taste
a few grinds of black pepper
Method:
Preheat oven to 400F.
Remove the stem end of the eggplant and pierce it all over with a fork. Place the eggplant directly on the oven rack and roast for about 45 minutes, until it is very soft.
Scoop the eggplant pulp into a bowl and let it cool for a few minutes. Mix in all other ingredients and chill thoroughly.