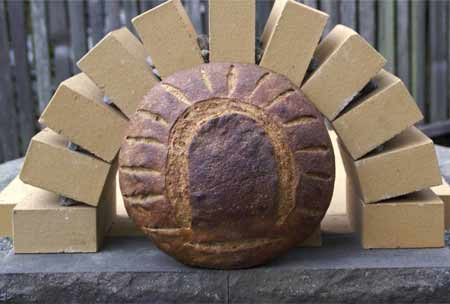 After way too much fretting that the corners of the firebricks for my oven hearth aren't perfectly square (and how many things in life are perfectly square?), there was only one thing to do: get over it and get on with it. So task number one yesterday was to lay the hearth no matter what. It's a little gappy at those pesky corners, but it will do.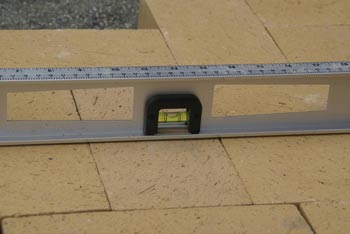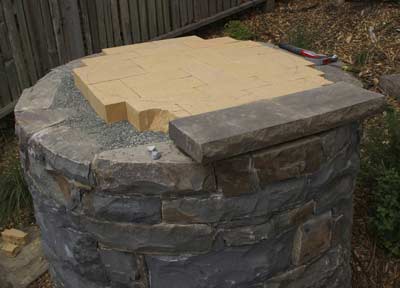 The next step was the arch that will form the opening to the oven. I arranged bricks on a piece of cardboard, then traced them to make a template for the arch.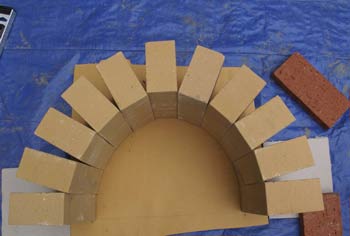 The book advises using the template to cut a plywood form that will hold the bricks in place while building the arch. Having neither power tools, nor skill with power tools, nor readily-available help, and being a rather impatient woman, I took a different approach. It turns out that corrugated cardboard is amazingly strong! I pieced together my form from two cardboard arches separated by styrofoam and stuck together with screws and picture-hanging nails. It wasn't elegant, but it worked. Just call me the queen of kludge.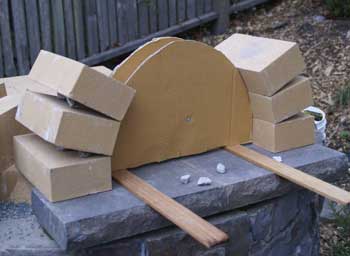 Pebbles hold the bricks at the proper angle.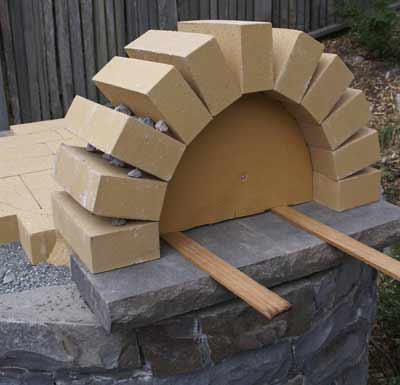 I held my breath as I removed the form, and I was thrilled to see that the arch stood on its own!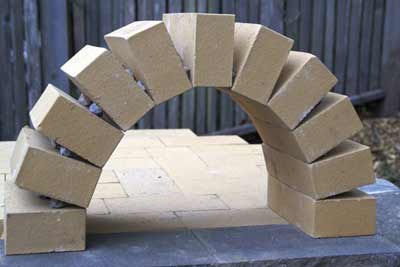 Today I will fill the gaps in between the arch bricks with mud and let it set for a day before beginning work on the oven dome.
One more thing: Zainab and Meedo (Arabic Bites) tagged me for a meme where the assignment is to list seven songs that are on your current playlist. I'm taking the lazy way out and just listing seven songs I remember that played on my Pandora Radio mix while I was working on the oven yesterday. (Yes, I do spend much of my time hopelessly stuck in the 70's.)
Wild Horses ~ The Rolling Stones
When Johhny Strikes Up the Band ~ Warren Zevon
Roxanne ~ The Police
Knocking on Heaven's Door ~ Bob Dylan
Into the Mystic ~ Van Morrison
Mother and Child Reunion ~ Paul Simon
Heart of Gold ~ Neil Young
Now, anyone who has built or wants to build their own oven, consider yourself tagged. What is your working music?