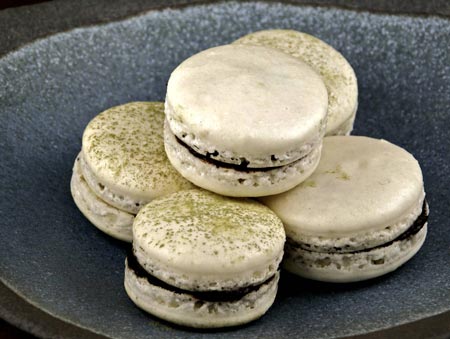 The 2009 October Daring Bakers' challenge was brought to us by Ami S. She chose macarons from Claudia Fleming's The Last Course: The Desserts of Gramercy Tavern as the challenge recipe.
When I was introduced to macarons in Paris two years ago, the puffy almond meringue sandwich cookies and I became fast friends. I was captivated by the delicate smooth crisp shell, ruffled "feet," chewy-soft interior, and shiny, creamy fillings, of these oh-so-French confections. But mostly I was seduced by the dazzling array of colors and flavors that beckoned from bright displays at the likes of Pierre Hermé, Ladurée, and countless other patisseries around the city.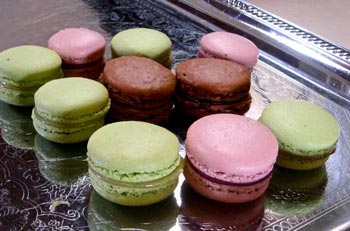 Blackcurrant Violet. Chocolate Passionfruit. Pistachio Caramel. Oh, the limitless possibilities…
So this month's Daring Bakers challenge excited and inspired me. I can do that! With almond meringue as my medium, my creativity will be unleashed and I too will present an eye-popping parade of macaron artistry.
And that is exactly what I did. I managed to make several varieties of macarons, and I'm pretty excited about how they turned out. I figure my line is broad enough that I'm all set to open my own macaronerie. Soon I'll be taking orders for:
The Underbaked Macaron
A thin, crisp shell (with feet!) surrounding a wet, sticky, married-to-the-silpat mess.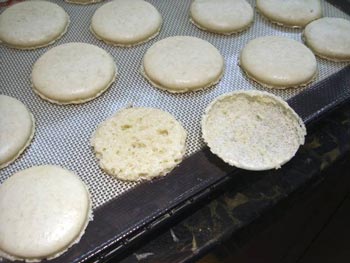 The Lumpy Macaron
Crafted with my special patented eggwhite-overbeating technique.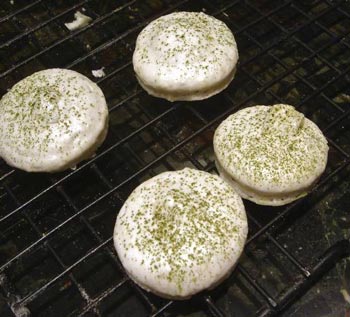 The Jaunty French Beret Lumpy Macaron
The Lumpy Macaron with an extra dose of je ne sais quoi.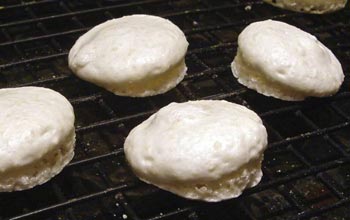 The Way Overbaked Macaron
Footless, smooth, brown, and chewy. Like a slug.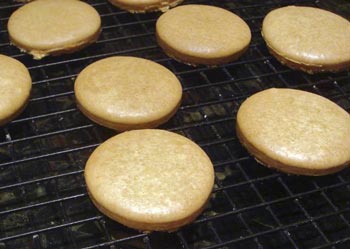 And finally, for a limited time only, the Not a Complete Disaster Macaron
Also pictured at the top with kukicha tea-infused chocolate ganache.