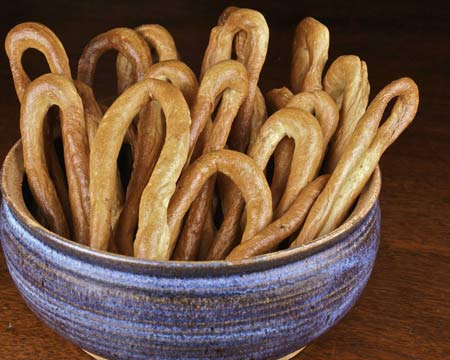 I have seen taralli variously described as Italian bagels, Italian pretzels, and Italian oval bread sticks. So I guess we can at least safely say they're Italian. Since I haven't eaten these in Italy, I don't know whether the ones I made are anything like the authentic ones, but they did taste good with a glass of red wine. And they'll keep until your two-year-old is in college.
The recipe is inspired by Royal Crown's Fennel Taralli from Artisan Baking by Maggie Glezer. I added some cracked pepper and made a few other adaptations for the ingredients I had on hand. I used a food processor but the dough can also be kneaded by hand if your upper body needs a good workout. The fennel seeds are worked in by hand at the end in either case.
Fennel and Pepper Taralli
Yield: 24 taralli
Time:
Mix: 10 minutes
Divide and shape: 15 minutes
Proof: 2 hours
Bake: 40 – 45 minutes
Final Dough Ingredients:
340 g flour
90 g high-gluten flour (such as King Arthur's Sir Lancelot)
0.7 g (1/4 t.) instant yeast
7 g (generous 1 t.) salt
2.5 g (3/4 t.) coarsely-ground black pepper
188 g water at room temperature
30 g olive oil
45 g white wine
7.5 g (generous 1 T.) fennel seeds
2 T. olive oil for boiling
Method:
In the bowl of a food processor, combine the flours, salt, yeast, and pepper with a few pulses.
Combine the water, 30 g olive oil, and wine. With the processor running, add the liquid ingredients in a thin stream.
Process for about a minute, until the dough is smooth and firm.
Knead the fennel seeds into the dough by hand until they are evenly distributed.
Divide the dough into 24 pieces of approximately 30 grams each.
To shape each taralle, roll the dough into a rope about 11 inches long and pinch the ends together. (If the dough is a little dry, a quick spritz of water with a fine spray bottle helps it roll more easily, and the ends stick to each other.) Gently stretch the ring into an oval and lay in on the counter.

Cover the taralli with plastic and proof for 2 hours. They will not look like they have risen.
Meanwhile, place two oven racks in the center of the oven and preheat to 400°F.
Bring a large pot of water to a simmer and add the 2 T. olive oil.
Place a cooling rack on the counter with a dishtowel underneath it. Line two large baking sheets with parchment paper.
Boil the taralli in batches of three or four for about one minute, until they float and puff a little. Remove them to the cooling rack with a slotted spatula. Once drained, arrange them on the paper-lined baking sheets.
Once all the taralli are boiled, bake for 40 – 45 minutes, until very dry, rotating the baking sheets about halfway through the baking.
Cool on a wire rack.