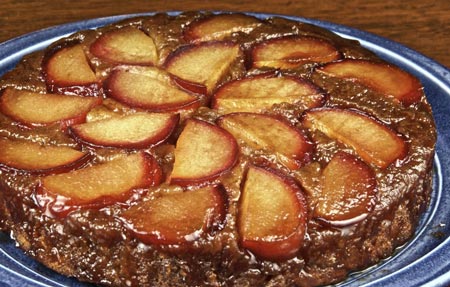 How do you know when someone is a true friend? I suppose there are lots of ways, but here's one that worked for me last week: I showed up at my friends Erika and Roger's house for lunch with this plum-ginger upside-down cake in one hand and my camera in the other. They didn't bat an eye when I said I wanted to get a photo of a slice of the cake once we cut into it. They didn't say, "Susan, you are a pathetic dork." They didn't say, "Put the damn camera down and let us eat our dessert." They didn't say, "What do we look like, Olan Mills?" Just, "Which would you prefer, a white plate or a patterned one?" And on top of that, Erika let me win at Upwords. You guys are the best.
I bought the plums with the idea of making some sort of upside-down cake, but I was prepared to have to search for a recipe. As luck would have it, Mimi (Delectable Tidbits) posted a lovely fig upside-down cake that very day, and it proved to be the perfect starting point for my cake. I replaced the figs with plums, added some crystallized ginger to the dough (yes, it's really more dough than batter, which of course suits me just fine), and scaled it to a 7-1/4-inch size. Now this is my kind of cake: rustic, fruity, swarthy (as Mimi put it), dense and moist. Mimi, you're the best too.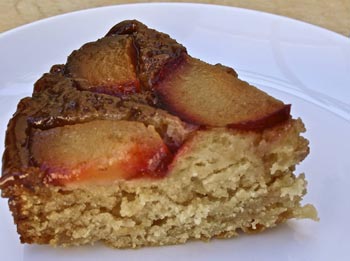 Plum-Ginger Upside-Down Cake
Yield: one 7-inch cake
Time:
Mix: 15 minutes
Bake: 30 minutes
Dough Ingredients:
130 g all-purpose flour
2 g (1/3 t.) baking soda
1.6 g (1/3 t.) baking powder
1 g (1/6 t.) salt
75 g unsalted butter
48 g egg (one egg)
112 g honey
38 g plain yogurt
83 g mature 100%-hydration sourdough starter
2/3 t. vanilla extract
32 g finely chopped crystallized ginger
Topping Ingredients:
3 firm plums, cut into 1/3-inch-thick half-moons
60 g brown sugar
57 g unsalted butter
2/3 t. cinnamon
1/3 t. ground ginger
Method:
In a large bowl, combine the flour, baking soda, baking powder, and salt.
Cut the butter into the dry ingredients until the mixture has the consistency of coarse sand.
In another bowl, combine the egg, honey, yogurt, starter, and vanilla.
Add the wet ingredients and the crystallized ginger to the dry ingredients, mixing just until everything is incorporated.
Preheat the oven to 350F.
Butter a 7.25-inch springform pan and line the bottom with a 9-inch circle of parchment (the parchment will come up the sides a bit.
In a small saucepan, combine the topping ingredients (except plums) and cook over medium heat until the butter is melted, then for another 2 minutes.
Pour the syrup into the parchment-lined pan. Arrange the plum slices in the pan over the syrup.
Spoon the dough and spread it evenly over the plums. It is easier to ensure that the dough reaches to the sides of the pan if you spoon it around the perimeter and spread inward rather than the other way around.
Bake for 30 minutes or until a toothpick emerges clean.
Cool in the pan on a wire rack for 10 minutes. Then loosen the springform, invert the cake onto a plate, and carefully peel away the parchment.