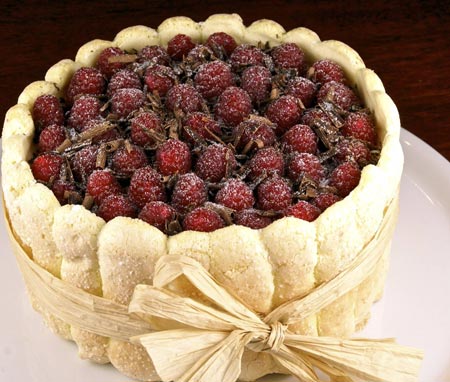 The February 2010 Daring Bakers' challenge was hosted by Aparna of My Diverse Kitchen and Deeba of Passionate About Baking. They chose Tiramisu as the challenge for the month. Their challenge recipe is based on recipes from The Washington Post, Cordon Bleu at Home and Baking Obsession.
Although admitting it may well get me thrown out of baking school, out of Daring Bakers, and quite possibly out of the entire human race, I've never been a big fan of tiramisu. It's really the only dessert I ever flat-out said I didn't like. I know, I know. I love coffee. I'm not averse to spirits. But lady fingers sodden with same and buried in acres of creamy creaminess… it's just never tweaked my biscuit.
Well, consider my biscuit tweaked. I changed things up just a bit by adding fresh raspberries between the layers, skipping the espresso, and instead soaking the lady fingers with cake syrup flavored with just a hint of citrus liqueur. Now there's a dessert I can love to eat. And eat… and eat.
The cream in this — a mixture of whipped cream, mascarpone, pastry cream, and zabaglione (all made from scratch) — can be summed up in three words: A. May. Zing. I didn't have marsala for the zabaglione, but white port made a fine stand-in. Since I didn't know how much I would end up needing for my 7-inch round tiramisu, I made a double batch of the cream — which was pretty much exactly double what I needed, but I can testify that it's delicious over fresh fruit. (It might even be wonderful as spoonfuls stolen right from the mixing bowl, but I plead the Fifth on that one.)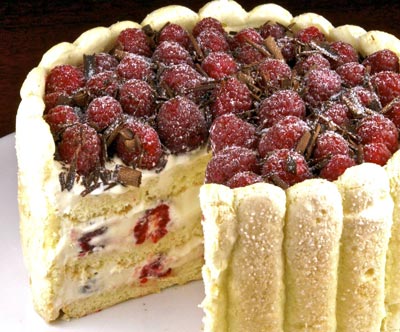 I also made a double batch of lady fingers (aka Savoiardi biscuits), so I'd have enough to encircle the tiramisu with them. After making templates on parchment (remembering to turn the parchment over to avoid getting ink on my biscuits!)…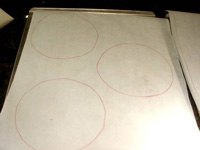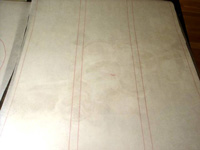 I piped three 6-inch discs for the center and lanes of "fingers" for the edge, making them close enough together that they would fuse a bit during baking and make it easier to line the cake ring.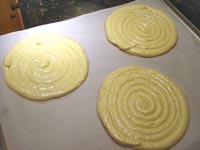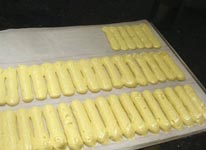 This being a Daring Bakers event, a mishap was in order. I swear I do not stage these gaffes for comic effect.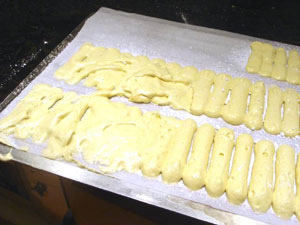 I scraped the damage back into the piping bag and recovered enough to repipe and carry on with the baking.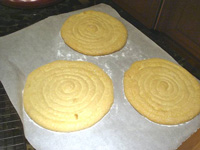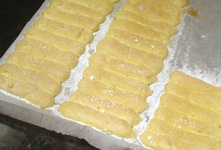 To say assembling the tiramisu was a snap would not be a lie. Yes, once the lady fingers were baked and cooled, once the marscapone, zabalglione, and pastry cream were made and chilled, once the cake syrup was boiled and cooled, once the cream was whipped and combined with the other creamy elements, once three half-pints of fresh raspberries were washed and carefully dried, then assembling the tiramisu was a real snap.
I lined the sides of the cake ring with parchment, followed by the lady finger strip (in two pieces), then placed a lady finger round in the bottom and brushed it with the syrup.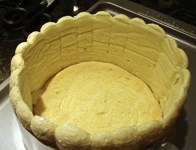 Then a layer of cream, studded with raspberries, followed by two more iterations of syrup-soaked lady finger round, cream, and raspberries.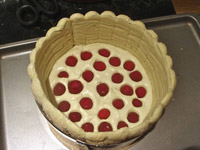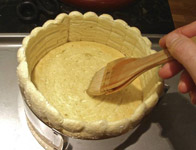 I crowded the third (top) layer of raspberries as densely as I could, and garnished with a few flaky dark chocolate curls and some snow sugar.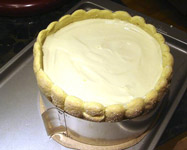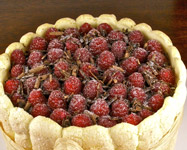 Oh Yes! This month hosts, my friends Aparna and Deeba, titled this challenge "Heaven on a Dessert Plate." I might consider replacing the word "Heaven" with something even more… evocative. Use your imagination.
Find inspiration from stunning Tiramisus by hundreds of other Daring Bakers. Then find the recipe* and go tweak your own biscuit.
*Note: I made my cake syrup by bringing 150 g sugar and 100 g water to a boil, then adding 4 T. Tuaca (Italian citrus liqueur).