SFBI Update: It's the end of week four, and we've been off baguettes for a week, but that doesn't mean we have any less bread at the end of the day. Plain sourdough four ways, sour rye, multigrain sour, buckwheat levain, ciabatta, overnight baguettes (did I say we were off baguettes? liar!), egg bread, Portuguese sweet bread, more baguettes (I kid you not!), pan sandwich bread.
I give away as much of the stuff as I can. My freezer is now almost completely ruled by bread. Torta di Pane was good but didn't make an appreciable dent in the supply. Only one thing to do: make toasts. Or if you're Italian, call them crostini.
What's not to love about thin crisps that can be made from even stale bread, keep for days-to-weeks, and serve as a platform for just about anything else you might feel like putting in your mouth?
And ever so simple, too. Use any bread that can be sliced thinly. Sometimes this is easier of the bread is a few days old, but if the bread has a dense crumb, like this rye, it doesn't matter. And if it's less dense, you'll probably want to slice it a little thicker anyway, so you don't get the things that are supposed to be on the crostini slipping through the crostini and onto your lap.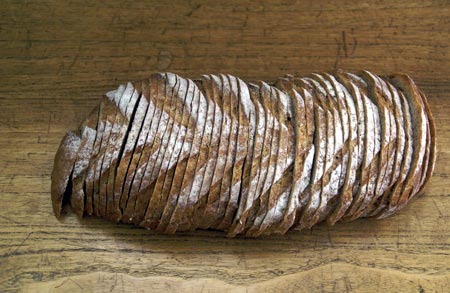 Put the slices on a baking sheet and dry them in a 300-degree oven for as long as it takes to get them dry. This will depend on how moist the bread is to begin with, and how thick the slices are. Mine were about 5 mm thick, and they took about 15 minutes to dry. You can brush them with oil before baking, but then they won't keep as long. I left mine naked.
Once they're cool, put them in an airtight container, and that's that.
Then eat whatever you like on them. This one has egg salad, tomato, and spinach-arugula pesto. A few of these made a pretty good Sunday lunch.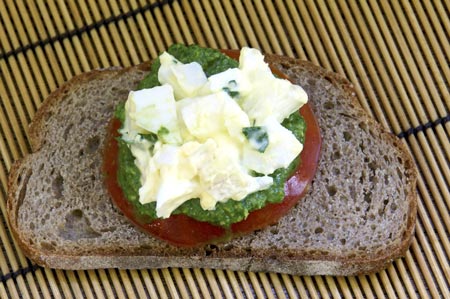 Of course, I'll still be eating them on Monday, Tuesday, Wednesday, Thursday, and possibly Friday. Meanwhile, more bread will be screaming for attention. Hmm. Anyone want me to send you some crostini?