[This space reserved for a gorgeous photo that didn't happen.]
The July Daring Bakers' challenge was hosted by Nicole at Sweet Tooth. She chose Chocolate Covered Marshmallow Cookies and Milan Cookies from pastry chef Gale Gand of the Food Network.
I am happy to report that the planets have aligned, the ships have come into port, and all is once again right with the world. After two months of Daring Bakers successes, I can once again plant a tick mark firmly in the FAIL column.
And there's even an added bonus: It was cookies. I was defeated by cookies! Not something even a little hard like genoise or lemon meringue. Who the hell is ever undone by cookies?
So yes! I can once again lay claim to the the title of world's worst non-yeast baker. Go me!
I actually did not fare too badly with the marshmallow cookies. I kind of liked the little dried cherries I put underneath the marshmallow on some of them.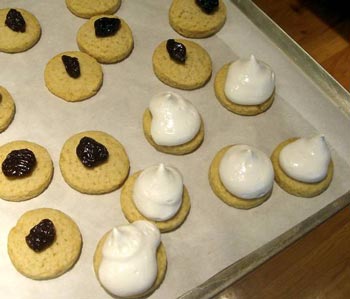 The problem was that the chocolate coating never managed to set, and I'm not really sure why. This explains why the only photo of them is still on the baking sheet they retired to after their chocolate bath. What a mess! You can't really eat one unless you'll be having someone come by to wipe your face and hands with a Wash 'n' Dri like you did when you were three.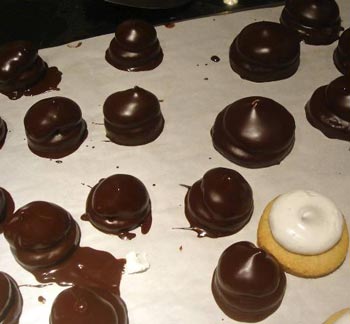 But the Milan cookies — these are where I really went town on this failure business. I'm happy to share my secrets with anyone who aspires to bomb them as spectacularly as I did.
Milan Cookies, Take One: Where the recipe says to add the egg whites gradually to the creamed butter and sugar, go ahead and throw them in all at once. This will ensure that you have unincorporated lumps of sugar/butter in the batter, which will make your Milan cookies look not, in fact, like Milan, but like the nearby snow-covered Swiss Alps. Toss the batter after this becomes apparent.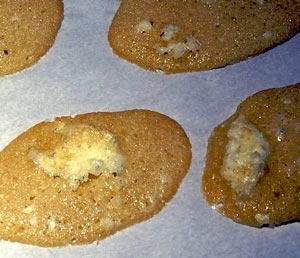 Milan Cookies, Take Two: You will need to go to the store to get some more lemon extract, since you used all you had on Take One. While you're there, get the brilliant idea of flavoring some of the filling chocolate with mint extract instead of orange zest, after Pepperidge Farm Mint Milano cookies, so pick up a bottle of peppermint extract also. Then when it's time to add the lemon extract to the batter, reach into the grocery bag, grab the first little bottle you see, and dump 2 tablespoons of its extract into the bowl. If your nose is in good working order, you'll know it was the mint pretty much right away. Two tablespoons of lemon extract in this batter is fine. Two tablespoons of mint extract, not so much.
Oh, and, while it's OK this time to add the egg whites gradually, per the recipe, do make sure that your mixer beater has large amounts of creamed butter/sugar stuck to it until it is too late to effectively incorporate into the batter. This way, you'll still wind up with those Alps as in Take One, although they might be some of the lesser ones.
So now you have overpoweringly minty, mountainous wafers, and you are debating whether you want to even try to make them into chocolate-filled sandwiches. You can save yourself from having to spend too much time on this decision by just grabbing the only-moments-out-the-oven baking sheet with your bare hand. The burns on your fingers will pretty much put the kibosh on any further kitchen escapades for the day.
See how easy that is?
In case I haven't been clear, this failure is mine, all mine. I'm not sharing any of the glory with the recipes, our lovely host Nicole, or the Daring Bakers organization. For proof that I am, in fact, the botch queen, check out some of my competition. It's not even close.