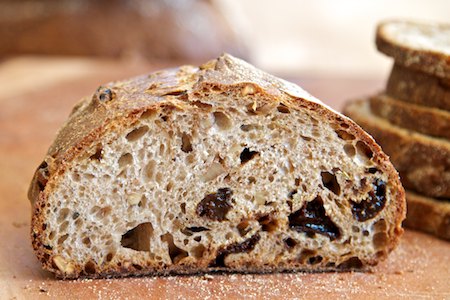 I am notoriously bad at planning. I'll be in the market when I'm hit with the overwhelming urge to bake with, say, pumpkin seeds. So I buy some up, oblivious to the fact that I might have three or four small remnant bags of same lurking in the recesses of my freezer. And now my freezer is starting to complain about the buildup.
So I made a deal with myself: I am not to buy any new dried fruits, nuts, or seeds, but I can buy as many flours as I like so I can bake away until my odd lots are used up. (I tried to negotiate different terms — something involving a new sports car in exchange for ingredient restraint — but I couldn't manage to sell it to myself. Clearly I need a better agent.)
Fortunately, I have some workhorse recipes that work wonderfully with the "one from Column A, one from Column B" approach. This semolina-fennel sourdough recipe, originally conceived with currants and pine nuts, baked beautifully with dried plums (commonly, but less charmingly, known as prunes) standing in for both currants and caramelized fennel, and walnuts for the pine nuts.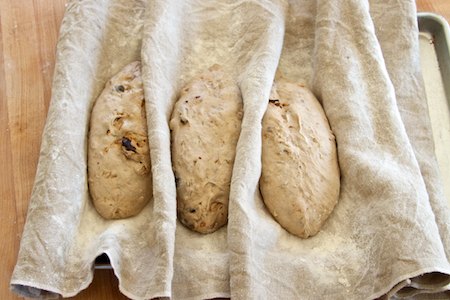 Recipe notes:
Semolina flour is made from durum wheat. It has a pale yellow color and a slightly nutty flavor, and is more coarsely ground than most wheat flours. Buy it packaged, or in bulk in many markets.
If your dried fruits are on the moist side, you don't need to hydrate them. If they're very dry, soak them in hot water for 10 minutes before weighing them.
To toast both the fennel seeds and the walnuts (not at the same time), heat them in a dry skillet over medium-high heat, stirring constantly, until fragrant. Then remove them to a cold plate. They should be cool before you add them to the dough.
To my palate, this bread tastes better the day after it is baked. This gives the walnut and fennel flavors time to permeate the crumb.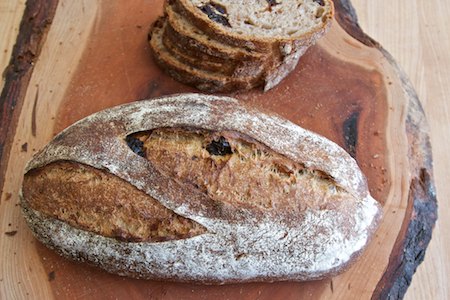 Semolina Sourdough with Plums, Walnuts, and Fennel
Yield: 1600 g (3 loaves)
Time:
Toast fennel seed and pine nuts: 10 minutes
Mix final dough: 10 minutes
First fermentation : 2.5 hours, with folds at 50 and 100 minutes
Divide, rest, and shape: 30 minutes
Proof: about 2.5 hours, or overnight in the refrigerator
Bake: about 35-40 minutes
Desired dough temperature: 75F
Ingredients:
313 grams flour
313 grams semolina flour
361 grams water
25 grams olive oil
15.6 grams (generous 2.5 teaspoons) salt
275 grams mature 100%-hydration sourdough starter
190 grams dried plums (prunes)
100 grams coarsely chopped walnuts, toasted
6.3 grams (one generous tablespoon) whole fennel seeds, toasted
Method:
In the bowl of a stand mixer fitted with a dough hook, combine the flour, semolina flour, salt, olive oil, sourdough starter, and most of the water. Mix on low speed until the ingredients are well incorporated, about 5 minutes. As you mix, add water as needed to achieve a very soft dough. (You may need additional water beyond the amount specified.)
Continue mixing on low or medium speed to a medium level of gluten development. How long this will take will depend upon your mixer.
Add the fennel seed, walnuts, and plums. Mix on low speed just until all the ingredients are evenly dispersed through the dough.
Transfer the dough to a lightly oiled container. Cover and ferment at room temperature for 2.5 hours, with folds after the first 50 and 100 minutes.
Turn the dough into a lightly floured counter. Divide into two pieces. Preshape it into balls and let rest, covered, for 20 – 30 minutes.
Shape the dough into batards and place them, seam-side-up, in a floured couche or floured, linen-lined baskets.
Proof at room temperature for 2.5 hours, or until the indentation left by a fingertip springs back very slowly. (Alternatively, the loaves can be proofed for about 30 minutes at room temperature, then placed overnight in the refrigerator.)
Meanwhile, preheat the oven, with baking stone, to 475F. You will also need steam during the initial phase of baking, so prepare for this now.
Just before baking, slash the loaves as you wish.
Once the loaves are in the oven, reduce the temperature to 450F. Bake for 8 minutes with steam, and another 20 minutes or so without steam. The curst should be a rich golden brown. Then turn off the oven and leave the loaves in for another 10 minutes, with the door ajar, to allow the loaves to dry.
Cool completely on a wire rack before cutting.