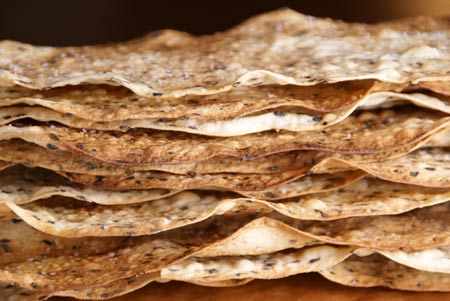 It will be a long time before I buy crackers again.
Flash back to two hours ago: I need to decide on a flatbread for this month's BreadBakingDay. Our host Petra (Chili und Ciabatta) has mandated no pizza. Pitas are out, because I just posted about those last month. I'd like to try Ehtiopian injera, but the 3-day fermentation doesn't fit into my schedule just now.
I'm really in the mood for something thin, crisp, flavorful but not overly complex. And quick. I thumb through the newest addition to my baking library, Savory Baking from the Mediterranean, by Anissa Helou. The Sardinian Crackers (Pane Carasau) look interesting, and the wheels start turning.
What if I add sesame seeds to the dough, as Helou suggests as a variation? How about making them black ones, to add a bit of visual punch? I wonder if I could use a pasta roller to make them super-thin, and wouldn't baking them on a stone make them super-crisp? And I'm thinking just a bit of olive oil and coarse salt would work well for topping.
I dive in. The dough is the definition of simplicity. The pasta roller attachment to my KitchenAid mixer works like a dream, although I can obviously get the flatbreads only so wide with this, and they are, accordingly, rather long. I roll them successively to number 7, which is the second-thinnest setting on this roller. It's pretty darn thin, with no extra flour needed for the rolling. And as when I make pasta, I find myself engaged, in a calming sort of way, by the repetition of the rolling and the hum of the machine. But a rolling pin would work fine too.
When I pull the first batch of two flatbreads off the stone, they are as thin, crisp, and tasty as I had hoped. They are the poster child for "just do it."
Now my mind is achatter with myriad possibilities: combinations of flours, dough additions, and toppings are limitless. Yes, it will be a long time before I buy crackers.
As always, thanks to Zorra for founding and keeping BreadBakingDay, and to Petra for this month's excellent theme. If you want to partcipate, you have until March 1 to bake a flatbread.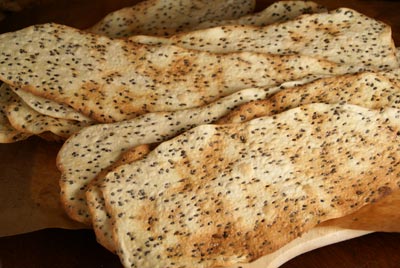 Sesame-Semolina Flatbreads
(adapted from "Sardinian Crackers" in Savory Baking from the Mediterranean by Anissa Helou)
Yield: 12 large flatbreads
Time:
Mix/rest: 45 minutes
Roll/bake (total time for 12 flatbreads): 25 minutes
Ingredients:
150 g flour
150 g semolina
22 g (2 T.) black sesame seeds
6 g (1 t.) salt
170 g lukewarm water
olive oil for brushing
coarse Kosher salt for topping
Method:
Preheat the oven, with baking stone, to 450F.
Mix flour, semolina, sesame seeds, and salt in a medium bowl.
Add water and stir to incorporate into the dry ingredients.
Turn dough onto an unfloured counter and knead for 3 minutes. Cover the dough and let it rest for 15 minutes.
Knead for another 2 minutes. Cover and rest for 20 minutes.
Divide the dough into 12 or more pieces and form them into balls.
Cut a piece of parchment paper the approximate size of your baking stone.
Roll a ball of dough through a pasta roller, starting with the thickest setting and adjusting the thickness setting down with each successive pass, to the desired thinness. Alternatively, roll out as thin as possible with a rolling pin.
Place the rolled flatbread on the parchment. Repeat with as many flatbreads as will fit on the parchment.
Brush the flatbreads lightly with olive oil and sprinkle with a small pinch of Kosher salt.
Transfer the breads, parchment and all, onto the stone. Bake until the edges are nicely brown and rippled, and the tops have golden brown patches, about 3 – 4 minutes.
While one batch is baking, roll out the next batch.
Cool on a wire rack. Break into pieces to serve.