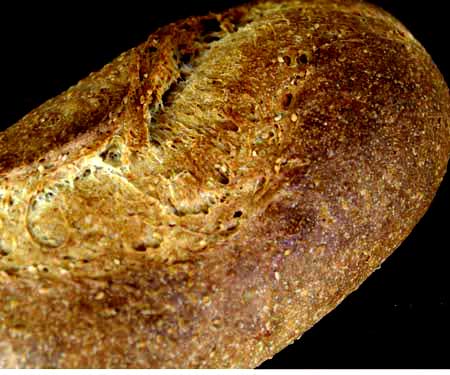 I'm rather fond of the letter S, having lived with it as my first initial for quite a while now. It's probably the letter I write more than any other, especially considering I have to sign my name or initials about 100 times a day at work.
So while I wasn't consciously setting out to make a bread whose main ingredients all share my initial, perhaps my ego was quietly asserting itself when, in an experimental frame of mind, I put a few ingredients together and came up with Semolina-Spelt-Sesame Sourdough. 4S bread.
For a bread that contains not a single nut, this bread tastes remarkably nutty. The nuttiness derives mainly from the hefty dose of sesame seeds, and also from the semolina and spelt flours. Smear it with your favorite fruit preserves and you'd swear it was a PB&J, except it doesn't stick to the roof of your mouth. The bread is quite nice for sandwiches because the crumb is soft, thanks to the olive oil, and not too open, so you won't get splotches of jelly all over yourself.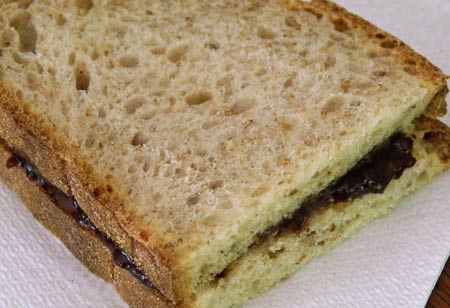 I tried a few different shapes with this: one simple batard, and two spiral loaves, one round and one double-ended (i.e., S-shaped). As they were about to go into the oven, my husband came into the kitchen and said, "What's that? It looks like SOL." It took me a minute to figure out what he was talking about: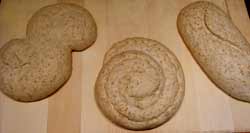 (In case you don't know the acronym SOL, it can translate to a couple of different phrases that mean roughly the same thing. One is "Sorely Outta Luck".)
His remark was prophetic, because only the batard turned out to look very appealing. The spirals, maybe because I coiled them too tightly, didn't open up and lost their definition.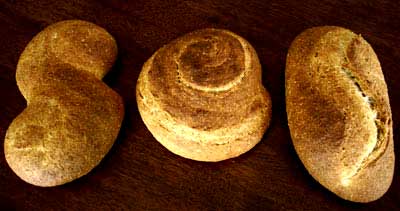 Fortunately, it all tasted good. But I suggest sticking to the batard. Or coil at your own risk.
Spelt is an ancient cousin of modern wheat. Spelt flour is available in some retail food stores, or can be ordered from King Arthur Flour.
Semolina-Spelt-Sesame Sourdough
Yield: 1 kg (two loaves)
Time:
Mix: 15 minutes
First fermentation: 2 hours or more
Divide, bench rest, and shape: 30 minutes
Proof: 2 hours or more
Bake: 35 minutes
Desired dough temperature: 76F
Ingredients:
100 g white flour
136 g whole spelt flour
236 g semolina flour (coarse)
288 g water
1 g (1/3 t.) instant yeast (optional)
12 g (2 t. table) salt
141 g ripe 100% hydration sourdough starter
28 g (2 T.) olive oil
80 g toasted sesame seeds
Method:
In the bowl of a stand mixer, mix the flours, most of the water, starter, yeast, and salt on low speed until well combined, about four or five minutes. Adjust the water to give the dough a moderately soft consistency.
Continue mixing in low or medium speed until the dough reaches a low level of gluten development, and another minute past that.
Add the olive oil and continue mixing in low or medium speed until the gluten reaches a moderate level of development. The total mixing time may be about 10 minutes, but will depend on your mixer.
Add the sesame seeds and mix in low speed just until they are evenly distributed through the dough.
Transfer the dough to a lightly oiled container (preferably a low, wide one so the dough can be folded without removing it from the container).
Ferment at room temperature (72F – 76F) for 2 hours (or about 2.5 hours if you have omitted the instant yeast), with a fold after one hour.
Turn the dough out onto a lightly floured counter. Divide it into two equal pieces and preshape them into light balls.
Cover the balls loosely with plastic and let them rest for 25 minutes.
Shape into batards and place seam-side-down on a semolina-dusted board, or directly on your peel.
Slip the board into a large plastic bag or cover the loaves loosely with plastic wrap. Ferment at room temperature for 2 hours (or about 2.5 hours if no yeast was used).
Meanwhile, preheat the oven, with baking stone, to 475F. You will also need steam during the initial phase of baking, so prepare for this now.
Slash each batard with a slightly S-shaped cut that is parallel to the long axis of the loaf.
Once the loaves are in the oven, turn the heat down to 450F. Bake for 10 minutes with steam, and another 20 minutes or so without steam. The crust should be a deep brown. Then turn off the oven and leave the loaves in for 5 minutes longer, with the door ajar, to help them dry.
Cool on a wire rack.