If you've looked around Wild Yeast, you know that I frequently adapt and post recipes from some of my favorite baking books. This is common practice among food bloggers, and OK from a legal standpoint, as recipes are not subject to copyright protection.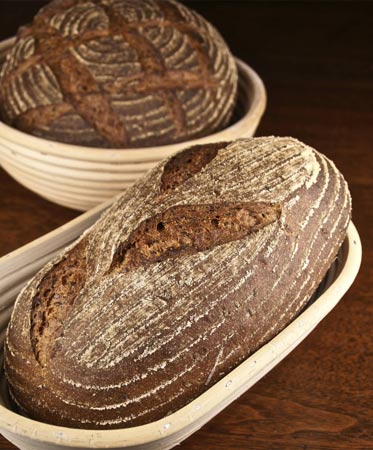 Legality and prevalence notwithstanding, doing right is important, and it has always been my belief and intention that when I post my take on another person's recipes, I respectfully communicate my admiration for that person and their work, while sharing my own thoughts and processes. However, my recent posting of an adaptation of Flaxseed Rye, from Jeffrey Hamelman's wonderful book Bread: A Baker's Book of Techniques and Recipes, prompted a reader to challenge me a little. Wasn't it impolite and disrespectful to reference another person's work in this way without his permission?
Taking a deep breath, I decided to ask Chef Hamelman what his thoughts were. He has given me permission to share his eloquent and gracious response:
"I've given some thought to your emails. To me, bread is rich and deeply historical, and is one of those very fundamental things that has lineage. And part of respecting the lineage is in doing just what you have been doing—giving attribution of recipe sources and inspirations. This is how we keep the links intact. It's a value thing, an ethic … If you read the introduction in the book BREAD to Horst Bandel's Black Pumpernickel and Miche Pointe-à-Callière you will get a sense of what my personal values are. So I'm saying yes, continue with what you are doing."
Now if you have the book, go read, or re-read, those parts. And if you don't have the book, get it, because these charming stories are a wonderful example of why you should buy books even if you can scavenge 100% of their recipes online. It isn't really the recipes (lists of ingredients and steps) that you're buying, is it? It's the wisdom and love and creative expression and passion of the authors who bring them to life that are the true value here. Thank you, Jeffrey Hamelman, for writing a great book and for generously encouraging us to honor those who inspire us as we pursue, and share, our own passion for baking.