I am a morning person. If I'm still in bed at 6:30, even on a weekend, I've slept in. I love the stillness before the other creatures in my household are stirring, and sometimes I just spend it over the crossword puzzle and a cup of coffee. But if I've started bagels the night before, I have some work to do. Just a little, though: boil and bake, and I've got these wonderfully chewy gems in time to take to work, or to welcome my family as they trickle out of bed.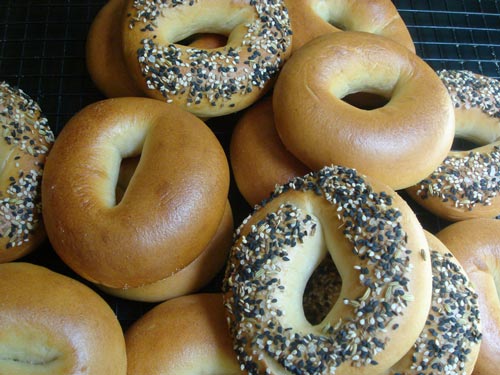 My recipe was originally based on that in Nancy Silverton's Breads from the La Brea Bakery. If you bake with sourdough, you should have this book. If you haven't baked with sourdough, why not raise a starter and dive in?
The dough is very stiff, so if you're not sure what your mixer can do, I suggest halving the recipe the first time around. I know some people mix bagels by hand, but I haven't spent enough time at the gym to get my delts in sufficient shape for that. If you're a bodybuilder, though, go nuts. Remember that you'll need to adjust the water temperature upward to compensate for the lower amount of friction you get with hand mixing. And if you use a mixer, be aware that the stiffness of the dough means the mixing friction is higher than for most breads, which is why I use ice water to end up with the dough at the right temperature.
Did I mention that these are really chewy? If you like a less dense bagel, feel free to increase the amount of water.
This recipe contains only white flour. I've got it on my list to experiment with making a portion of it rye or whole wheat, and adding other ingredients to the dough (I'm a sucker for Noah's cracked peppercorn-potato). Even with this plain dough, the flavor can be varied by using a variety of seeds to top the bagels. I like a mixture of two parts each black and white sesame seeds, one part each anise and fennel seeds, and a pinch of coarse salt.
High-gluten flour (about 14% protein) can be ordered from King Arthur Flour, but if you don't have it, you can substitute 675 g of your regular bread flour plus 18 g of vital wheat gluten, available in most natural food stores.
Non-diastatic malt powder is also available from King Arthur, or substitute a tablespoon of barley malt syrup, sold in natural foods stores and some supermarkets. Malt is the key to that bagel-y flavor that I love.
Cornmeal can be used in place of the semolina for dusting the parchment, but semolina is finer and interferes less with the texture of the bagels. Brush it off the bottom of the bagels before boiling to avoid getting the water too gritty.
Sixteen bagels require two cookie sheets. If you bake them at the same time, you may need to rotate the sheets halfway through to ensure even browning. If you bake them separately, keep the second batch in the fridge and start boiling them when first ones have about 10 minutes of baking time left.
These freeze exceptionally well, pre-sliced and individually wrapped.
Sourdough Bagels

Yield: 16 bagels, 85 grams each
Time:
Mix: 10 minutes
Rest: 10 minutes
Divide/shape: 20 minutes
Refrigerate: 8 – 12 hours
Boil: 20 minutes (includes heating the water)
Bake: 20 minutes
Desired dough temperature: 78F
Ingredients:
693 g high-gluten flour
304 g ripe 100%-hydration sourdough starter
308 g ice water
2.5 g (7/8 t.) instant yeast
13.5 g (2 1/4 t.) salt
18 g (1 T.) sugar
15 g (4 1/3 t.) non-diastatic malt powder
47 g milk powder
Seeds for topping (optional)
Semolina flour for dusting
1 T. baking soda for boiling
Method:
Combine the flour, starter, water, yeast, salt, sugar, malt, and milk powder in the bowl of a stand mixer. Mix on low speed to combine.
Mix on medium-low speed until the dough is very smooth and strong, almost rubbery, about 7 minutes.
Turn the dough out onto an unfloured counter and work a few turns by hand. Form the dough into a smooth ball; the surface should feel satiny and tight.
Cover the dough loosely with plastic wrap or a towel and let it rest for 10 minutes.
Divide the dough into 16 pieces of about 85 g each. Form each piece into a light ball, cover, and let rest for 10 minutes.
Meanwhile, line two cookie sheets with parchment paper and dust them with semolina.
To shape each bagel, roll the dough into a cylinder about 8 – 10 inches long without tapering the ends. Wrap the cylinder around your hand, with the ends overlapping by about two inches in your palm. Roll your palm on the (still unfloured) counter to smash the ends together. (Note: if the dough is a little dry, give it a quick spritz of water with a fine spray bottle before shaping. This helps it roll more easily, and the ends stick to each other.)
Place the bagels on the prepared cookie sheets, slip into a large food-grade plastic bag or cover with plastic wrap, and refrigerate overnight.
In the morning, preheat the oven to 450F.
Bring a large pot of water to a rolling boil. Do not remove the bagels from the refrigerator until you are ready to boil them. Add the baking soda to the water once it is boiling.
Meanwhile, place a cooling rack on the counter with a dishtowel underneath it, and place the topping seeds, if using any, on a small plate in a shallow layer.

Drop the bagels, three or four at a time, into the vigorously boiling water for 20 seconds. They may or may not float right away, but they should float by the time the 20 seconds are up. If they float right away so the tops are not submerged initially, flip them over about halfway through the boil.
Remove the bagels from the water to the cooling rack with a slotted spatula. Let them drain for about 30 seconds before pressing them, top down, into the seeds and replacing them back onto the semolina-dusted, parchment-lined cookie sheet.
Turn the oven down to 400F once the bagels are in. Bake until golden brown, about 20 minutes.
Cool on a wire rack.