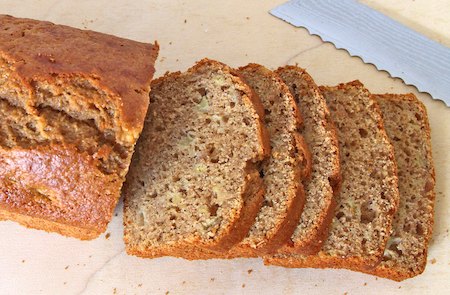 I came up with this sourdough quick bread by heavily tweaking one of my favorite "regular" banana bread recipes. Why the adaptation? It could be that I believe that my changes — incorporating a hefty amount of sourdough starter, significantly reducing the amount of sweetener and fat, and replacing the butter with olive oil — transform what is essentially cake into something falling somewhere between turnip greens and quinoa on the healthy food scale. Or it could be that sourdough just makes everything better, and that's reason enough.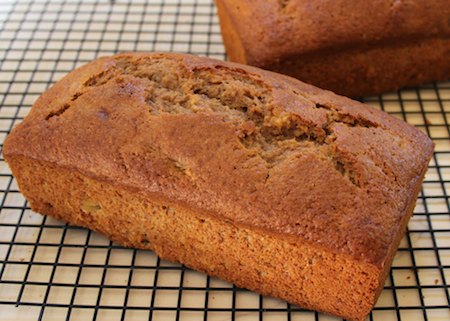 The idea in adaptations like this is to substitute all or a portion of the flour in the original recipe with the flour in the sourdough starter. But one challenge in adapting pastry recipes is that the starter must be fairly liquid (around 100% or more hydration) in order to incorporate easily with the other ingredients without having to work it very much, which would produce gluten development that is generally undesirable in pastries. How can you bring all that water along without making the batter too wet?
If the original recipe calls for water as an ingredient, the amount can be reduced to account for the water in the starter. Otherwise, it's a little tricker. If there are other liquids, such as milk or egg whites, you might substitute a powdered form of that ingredient, such as milk powder, and let the starter water stand in for the liquid component of the ingredient. Reducing the amount of sweetener can also help make a batter less "wet" (as well as, of course, less sweet, which I generally find to be a good thing).
It's pretty much a trial-and-error process (or at least it is for me), so I won't be able to give you hard and fast substitution formulas for other recipes.
By the way, the recipe I started with is the banana bread from Mollie Katzen's classic Moosewood Cookbook, but this version is really nothing like that one. If you love that bread and want a variation that more closely approximates it, do this: Replace the olive oil with an equal weight of melted butter. Replace the lemon zest with the zest of one orange. Replace the ginger with 1/2 teaspoon (1.2 g) of nutmeg. Add one tablespoon (4 g) espresso powder and 1/2 teaspoon (2.8 g) almond extract.
Sourdough Banana Bread
Yield: 2 loaves
Time:
Mix: 10 minutes
Bake: 1 hour
Ingredients:
170 g olive oil
300 g brown sugar or honey
200 g (4 whole) eggs, at room temperature
12 g (1 tablespoon) vanilla
6 g grated lemon zest (from one medium lemon)
280 g whole wheat flour
6 g (1 teaspoon) salt
2.3 g (1/2 teaspoon) baking soda
10.4 g (1 tablespoon) baking powder
3.8 g (2 teaspoons) cinnamon
1.7 g (1 teaspoon) ginger
475 g mature 100%-hydration sourdough starter
300 g very ripe mashed banana (about 3 medium bananas)
180 g very ripe (peeled) nectarine flesh, finely chopped, or an equal weight of additional mashed banana
Method:
Preheat the oven to 350F.
Generously butter two 8.5 x 4.5-inch metal loaf pans.
In the bowl of a stand mixer with the paddle attachment, beat the oil with the sugar or honey until smooth.
Add the eggs one at a time, beating well after each addition.
Add the vanilla and the lemon zest, and continue to beat on medium-high speed until the mixture lightens in color.
Add the sourdough starter and mix on low speed until it is almost fully incorporated. A few streaks are okay.
Sift the whole wheat flour with the salt, baking powder, baking soda, cinnamon, and ginger.
Add the sifted dry ingredients to the batter alternately with the banana and nectarine, beginning and ending with dry ingredients and mixing gently to combine after each addition.
Pour the batter into the prepared loaf pans.
Bake at 350F for about 1 hour, until a tester in the center of the loaf comes out clean.
Cool on a wire rack.