I'm prepared to catch a lot of flak with this post, because I'm going to challenge some of the most cherished and prevalent beliefs about my favorite type of bread and that mysterious microbial ecosystem that makes it possible: sourdough.
I'm not saying these Sourdough Stories are False with a capital F or Myths with a capital M, nor am I proclaiming myself the grand arbiter of high sourdough truth. But there are credible sources that refute or question a good amount of the prevailing lore. If you don't want to give these Sourdough Stories up, that's fine. But if it would make your life easier or more interesting to let a few of them go, then feel free to do that, and know that you're in good, if perhaps not abundant, company.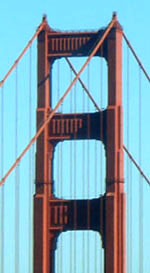 Sourdough Story #1: San Francisco sourdough bread can only be made in San Francisco. OK, I suppose you could say this one is actually true by definition. But the lactic-acid-producing bacterium (Lactobacillus sanfranciscensis) that supposedly makes SF sourdough unique is found in sourdough starters all over the world, and is in fact the predominant bacterial species in many of those starters. So if you're not lucky enough to live in San Francisco, or to have a "geniune" SF sourdough starter, don't despair; a fine sourdough is still attainable. Conversely, some sourdough breads made in SF are positively mediocre. A good sourdough bread has as much, if not more, to do with the skill of the baker than with the specific organism species in the starter. Read this Discover Magazine article to see why sourdough researcher Frank Sugihara said, "I think you can make San Francisco sourdough pretty much anywhere."
Sourdough Story #2: Starting a sourdough starter involves "capturing" wild yeast from the air. Yeast grow on grain and arrive with the flour. One gram of flour contains about 13,000 yeast cells. I don't deny that there are a few yeast in the environment that find their way into the starter, but by and large the yeast that will survive in the starter are the ones that like the menu there, i.e, the ones that have a taste for grain. Sure enough, they're the ones that were on that grain in the first place. And bacteria, the other vital sourdough culture component, are everywhere; you couldn't keep them out even if you wanted to. Alton Brown's sock puppets may be cute, but their sourdough-diving antics are largely mere theatrics (which I find is so often the case with sock puppets). When starting a starter, you don't need to keep your flour/water mixture uncovered by an open window to lure yeast and bacteria. The microorganisms are already where you want them, and leaving the lid off will only attract insects and other riff-raff.
Sourdough Story # 3: The best sourdough starters are made with grapes or other fruits. Yes, yeast lives on fruit. But once again, it's the yeast that prefer grain that will thrive in the starter, not those that like fruit. And the flour provides ample nutrition for the yeast; the sugar in the fruit is not necessary. Starting a starter requires nothing more than flour and water. Adding fruit probably won't hurt (unless it's covered with pesticides), but it won't help either. (An exception may be Peter Reinhart's recommendation to use pineapple juice in the initial stages of a starter to prevent a certain type of undesirable bacteria from proliferating; however, I have found that these bacteria die out eventually anyway and the starter is ultimately none the worse for the omission of the juice. In fact, the one time I tried making a starter with pineapple juice, it didn't work, but that's probably just me.)
Sourdough Story # 4: Sourdough starter and commercial yeast should never be used together. I'm ducking now, because so many people get their knickers in a twist over this one. It is true that a healthy starter is capable of raising bread all by itself without any help from commercial yeast. It's also true that some people prefer, for various reasons, to avoid commercial yeast in every situation, and I respect that. Many of the breads I bake are leavened only with sourdough. But the late Professor Raymond Calvel, who is widely acknowledged as the leading all-time expert on French bread, said that a very small amount of yeast (up to 0.2%) might be used in a proper sourdough bread (pain au levain) to increase consistency of timing without affecting the taste of the bread. He also said that using a somewhat larger amount of yeast was acceptable to produce a less sour, more grain-y flavor while retaining some of the flavor complexity and keeping qualities contributed by the sourdough, although the resulting bread could not technically be called pain au levain.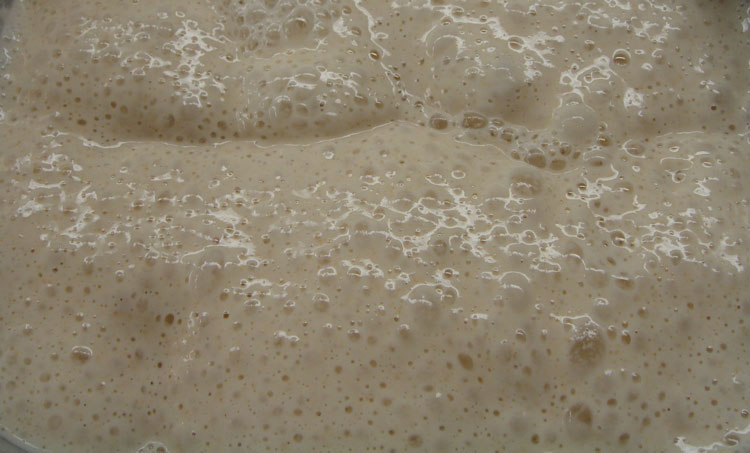 Sourdough Story # 5: A years-old sourdough starter is better than a weeks-old one. A starter reaches its full potency when it is a couple of weeks old, but beyond that, older is not better. My instructor at SFBI told us that many German bakers (the great original sourdough masters) make new starters from scratch every six months or so to keep them fresh. Now if you're working with your great-grandmother's starter or one that has traveled the Oregon Trail, and if it's making great bread for you, I suggest sticking with it. But if you don't have an heirloom starter, or if you accidentally kill your starter, you probably won't need psychotherapy. Just grow or beg a new one, and get on with life.