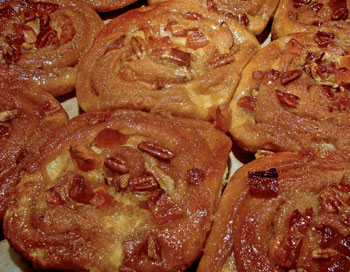 If I'm being honest, I have to breathe a sigh of relief that 2007 is almost over. Well, maybe not all of 2007, just the last couple of weeks. OK, maybe not all of the last couple of weeks, but the baking part. At least the part where I make at least one very stupid mistake with each and every thing I bake.
My mental bandwidth overloaded with holiday freneticism, and my brain cells additionally blunted by the consumption of a staggering amount of butter and sugar (excuses, excuses), I have felt, of late, like I'm starring in "Inspector Clouseau in the Kitchen."
Everything turned out to be salvageable, and I'll spare you the details, except to offer a vague explanation for why I'm not including the recipe for my submission to this month's BreadBakingDay (#05). Our host Chelsea of Rolling in Dough chose the theme of filled breads, and I made Cardamom-Pear-Pecan Sticky Buns.