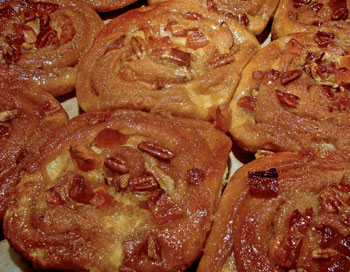 If I'm being honest, I have to breathe a sigh of relief that 2007 is almost over. Well, maybe not all of 2007, just the last couple of weeks. OK, maybe not all of the last couple of weeks, but the baking part. At least the part where I make at least one very stupid mistake with each and every thing I bake.
My mental bandwidth overloaded with holiday freneticism, and my brain cells additionally blunted by the consumption of a staggering amount of butter and sugar (excuses, excuses), I have felt, of late, like I'm starring in "Inspector Clouseau in the Kitchen."
Everything turned out to be salvageable, and I'll spare you the details, except to offer a vague explanation for why I'm not including the recipe for my submission to this month's BreadBakingDay (#05). Our host Chelsea of Rolling in Dough chose the theme of filled breads, and I made Cardamom-Pear-Pecan Sticky Buns.
The buns turned out pretty well in the end, but not before I met with a handful of issues involving an unintentionally huge quantity of dough (half of which still sits forlornly in my fridge, destined to be tossed), an incorrect oven temperature, and scribbled notes spread out in at least four places, only two of which I can seem to remember at any given time.
So all I can muster at the moment are a few photos as evidence that I truly did bake these buns, and a promise that I'll pull the recipe together and post it sometime in 2008. (It really is a good recipe!)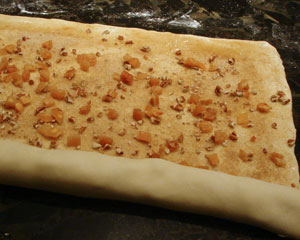 In the meantime, if you want to make them, just take your favorite cinnamon sticky bun recipe (like the one that was the Daring Bakers' September challenge), replace the cinnamon with cardamom, and fill and top with chopped pecans and dried pears cut into 1/4-inch dice. The result is a not-too-sweet combination that turned out, after all was said and done, to be popular with my Christmas-week houseful.
As always, thank you to this month's BBD host Chelsea, and to BBD's founder and keeper, Zorra.
Happy New Year everyone. Here's to new beginnings in 2008!