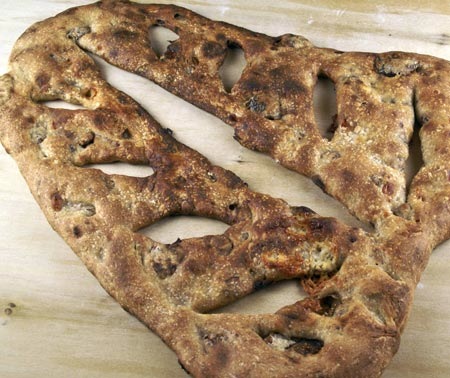 Fougasse, the French version of focaccia, is a flat bread that is cut to resemble a tree, leaf, or ladder. Because the cuts maximize surface area, this is yet another type of loaf that is wonderful for crust lovers like my husband. The dough usually contains olive oil, and may have additions or fillings such as fresh herbs, cheese, nuts, olives, or anchovies.
I chose to make mine really cheesy with Gorgonzola, and added some pecans and figs to make it extra decadent. I know it's not much to look at, but please take my word for it — it it tastes a lot better than it looks. Just to be clear, it's really cheesy.
Since I was going for crispy as well as cheesy, I flattened the dough to about 1/4-inch thick. If you want it a little softer in the middle, you could make it thicker. Also, depending on the size and shape of your stone, you may need to make the fougasse a little more square or circular rather than elongated like mine. For more options on how to shape and cut a fougasse, take a look at these from Mon Blog Loisirs and Living in the Kitchen With Puppies.
I have found that it's much easier to make clean cuts by exerting straight downward pressure on the dough (guillotine-style), rather than dragging a blade through it. I use a small rigid plastic dough scraper, but the end of a square metal spatula would work as well.