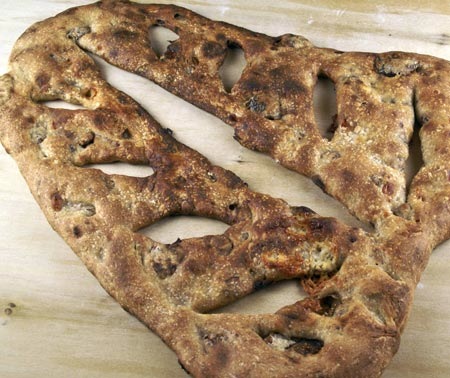 Fougasse, the French version of focaccia, is a flat bread that is cut to resemble a tree, leaf, or ladder. Because the cuts maximize surface area, this is yet another type of loaf that is wonderful for crust lovers like my husband. The dough usually contains olive oil, and may have additions or fillings such as fresh herbs, cheese, nuts, olives, or anchovies.
I chose to make mine really cheesy with Gorgonzola, and added some pecans and figs to make it extra decadent. I know it's not much to look at, but please take my word for it — it it tastes a lot better than it looks. Just to be clear, it's really cheesy.
Since I was going for crispy as well as cheesy, I flattened the dough to about 1/4-inch thick. If you want it a little softer in the middle, you could make it thicker. Also, depending on the size and shape of your stone, you may need to make the fougasse a little more square or circular rather than elongated like mine. For more options on how to shape and cut a fougasse, take a look at these from Mon Blog Loisirs and Living in the Kitchen With Puppies.
I have found that it's much easier to make clean cuts by exerting straight downward pressure on the dough (guillotine-style), rather than dragging a blade through it. I use a small rigid plastic dough scraper, but the end of a square metal spatula would work as well.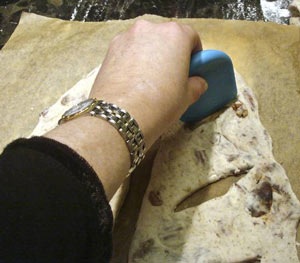 This goes to Temperance (High on the Hog) and Zorra (1x umrühren bitte ) for BreadBakingDay #16, Bread with Cheese.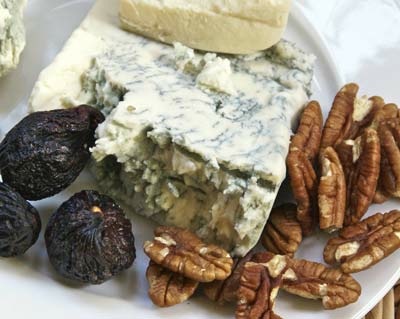 Gorgonzola Fougasse With Figs and Pecans
Yield: 1200 g (2 large fougasses)
Time:
Mix: 45 minutes
First fermentation : 2.5 hours with a fold at 1 hour
Shape: 10 minutes
Proof: 2.5 – 3 hours
Bake: 15 – 20 minutes per fougasse
Desired dough temperature: 74F
Ingredients:
385 g flour
89 g whole rye flour
261 g water
237 g mature 100%-hydration sourdough starter
12.5 g (2 t.) salt
30 g (2 T.) olive oil, plus more for brushing
117 g firm Gorgonzola cheese, crumbled into half-inch chunks
67 g pecan halves, very coarsely chopped
67 g dried figs, quartered (soak in hot water to soften if they are very dry)
Method:
In the bowl of a mixer fitted with a dough hook, combine the flour, rye flour, water, and starter. Mix in low speed until the ingredients just form a shaggy mass. Cover the bowl and let the dough rest for 30 minutes.
Add the salt and olive oil and mix in low speed until just combined. Continue mixing in medium speed to a medium level of gluten development. This will probably take less than five minutes, but will depend on your mixer.
Turn the dough onto a lightly-floured counter. Flatten it out and place the cheese, figs, and pecans on the dough. Fold the dough over so the add-ins are enclosed inside, and continue folding gently until they are evenly mixed into the dough.

Transfer the dough to a lightly oiled container. Cover and ferment for 2.5 hours, with a fold after the first hour.
Turn the dough into a lightly floured counter and divide it into two pieces. To shape each fougasse:
Place the dough onto a piece of parchment paper and pat/stretch it into a roughly trangular shape about 12 inches across at the base and 16 inches tall. Use a dough scraper to make cuts in the dough as shown, and widen the cut spaces with your fingers.

Proof, covered, for 2.5 – 3 hours (bake the first one at 2.5 hours so the second will have proofed for almost 3 hours).
Meanwhile, preheat the oven, with baking stone, to 495F. You will also need steam during the initial phase of baking, so prepare for this now.
Just before baking, brush the dough lightly with olive oil.
Once the fougasse is in the oven, reduce the temperature to 470F. Bake for 8 minutes with steam, and another 10 minutes or so without steam, until the crust is crisp and brown and the cheese is bubbly.
Cool on a wire rack.