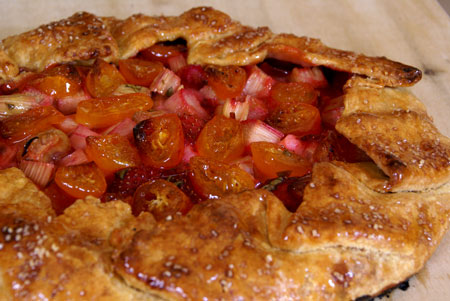 Rustic fruit desserts are my favorite, and I almost always order one if it's on the menu when we eat out. (My husband likes to guess what dessert I'll choose, and he's usually right because my taste is so predictable.) However, unless there's a birthday or holiday to be celebrated, or a Daring Bakers challenge to try to conquer, I rarely bake desserts of any kind at home.
But the rhubarb and kumquats that were yesterday's impulse buys at the farmer's market got me pining for something chunky and tart and sweet and coarse and juicy and messy and perfect in its imperfection. A galette of the rhubarb and kumquats along with some of the other market bounty — strawberries and basil — seemed about right.
I'm submitting this as my first entry for Weekend Herb Blogging, the venerable and popular event founded by Kalyn (Kalyn's Kitchen) and hosted this week by Anh of Food Lover's Journey. I think both rhubarb and kumquats are interesting enough to merit "featured plant" status, so I randomly picked the kumquats.