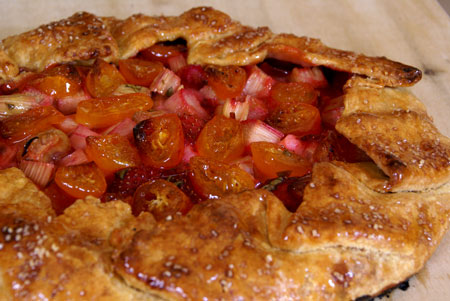 Rustic fruit desserts are my favorite, and I almost always order one if it's on the menu when we eat out. (My husband likes to guess what dessert I'll choose, and he's usually right because my taste is so predictable.) However, unless there's a birthday or holiday to be celebrated, or a Daring Bakers challenge to try to conquer, I rarely bake desserts of any kind at home.
But the rhubarb and kumquats that were yesterday's impulse buys at the farmer's market got me pining for something chunky and tart and sweet and coarse and juicy and messy and perfect in its imperfection. A galette of the rhubarb and kumquats along with some of the other market bounty — strawberries and basil — seemed about right.
I'm submitting this as my first entry for Weekend Herb Blogging, the venerable and popular event founded by Kalyn (Kalyn's Kitchen) and hosted this week by Anh of Food Lover's Journey. I think both rhubarb and kumquats are interesting enough to merit "featured plant" status, so I randomly picked the kumquats.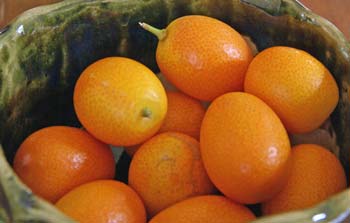 The kumquat is a diminutive oval fruit that resembles a tiny orange. It is never peeled and often eaten whole, seeds and all. The flesh is sour, the rind sweet, and the seeds bitter; I find the burst of flavors when I pop one into my mouth to be refreshing and jolting.
Kumquats can also be chopped or sliced and used in fresh relishes, marmalades, meat and fish dishes, and desserts. I had never cooked or baked with them before, but I've bookmarked some tempting recipes, listed at the end of the post.
I didn't buy a huge number of kumquats, and I wanted to have some left for snacking, so I used them as a garnish on the top of the galette only. The inspiration to candy them came from this recipe at The Kitchn, where I also got the idea of cornmeal in the crust for added rusticity. The strawberry-rhubarb filling is adapted from this one from Food & Wine. The basil was my own idea, and I could have used a little more; its flavor here is very subtle.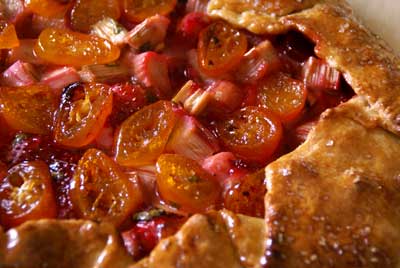 Strawberry-Rhubarb-Kumquat Galette

Yield: 8 – 12 servings (one 10-inch galette)
Pastry Crust Ingredients (NB – this makes enough dough for TWO galettes):

1 cup all-purpose flour
1 cup white whole wheat flour
1/2 cup cornmeal
1 teaspoon sugar
1 teaspoon salt
2 sticks (1 cup) chilled butter, cut into small pieces
Approximately 1/2 cup + 1 tablespoon ice water
Candied Kumquats/Glaze Ingredients:
6 large kumquats, sliced into 1/4-inch rounds, seeds removed
1/3 cup water
1/2 cup sugar
4 large basil leaves, coarsely chopped
Filling Ingredients:
3/4 pound rhubarb, cut into 1/2-inch dice (about 3 cups)
1 pint strawberries, cut into thick slices
1 tablespoon coarsely chopped fresh basil leaves
1/2 cup + 1 tablespoon sugar
3/4 teaspoon vanilla extract
1-3/4 teaspoons fresh lemon juice
1-1/2 tablespoons flour
Finishing Ingredients:
1 egg, lightly beaten
coarse sugar
Method:
Make the crust: Place flours, cornmeal, sugar, and salt in the bowl of a food processor and process briefly to combine. Add the butter and process just until the mixture resembles coarse cornmeal. With the processor running, add icewater in a thin stream until the dough just holds together. Divide the dough in half, press each half into a disk, wrap in plastic wrap, and chill for at least one hour. (Reserve one disk for another use.)
Candy the kumquats: Mix kumquats, sugar, and water in a small saucepan. Bring to a boil over medium-high heat. Reduce the heat, add the basil, and simmer for 10 minutes, until the syrup has thickened. Set aside. (Do not discard the syrup; it will be used to glaze the baked galette.)
Preheat the oven, with baking stone, to 400F.
Roll out chilled dough into a 14-inch circle. Chill for 10 minutes. (I draped the dough over a chilled stainless steel bowl to make it fit in my refrigerator.)
While the rolled-out dough is chilling, toss the filling ingredients together.
To assemble, place the crust on a piece of parchment paper at least 10 inches square. Mound the filling in the center of the crust, leaving a 2-inch margin. Arrange the candied kumquats on top of the filling. Fold the edges in over the filling, pleating the dough to lie flat. Brush the dough with egg and sprinkle with coarse sugar.
With a peel, transfer the galette (on the parchment) to the baking stone. Bake for 40 – 45 minutes, until the filling is bubbly and the crust is golden brown.
While the galette is still warm, brush the top (both crust and filling) with the reserved kumquat syrup.
Now go check out some other kumquat recipes: