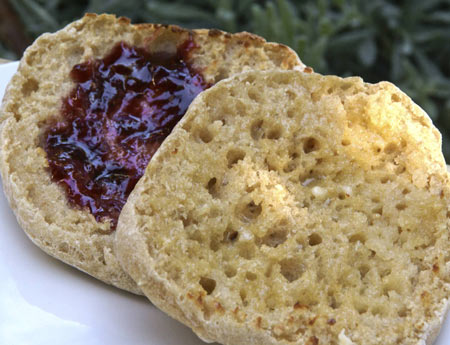 If you like to start your morning with a little kick, may I suggest these English muffins? Made with both sourdough starter and yogurt, their tang can be toned down with a little raspberry jam, or turned up with a gloss of unsalted butter.
Either way, maybe they will rock your morning like they rocked mine — as I was finishing my muffin, I felt that rumbling and shaking that in this neck of the woods can only mean one thing: earthquake. It was a little one, as most of them are, but an earthquake nonetheless.
If you don't mind a somewhat rustic shape to your muffins, instead of cutting out circles, pat the dough into a rough rectangle and use a dough cutter to cut it into square-ish pieces. That saves having to re-roll or waste scraps.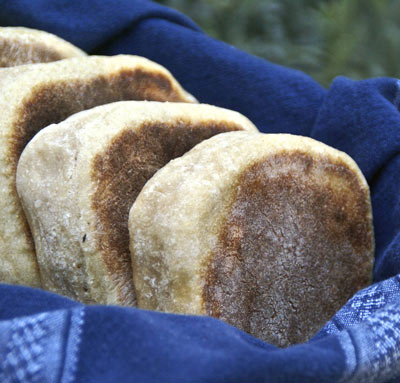 Tangy English Muffins
Yield: 6 muffins
Time:
Ferment sponge: 8 hours
Mix and shape: 15 minutes
Proof: 1 hour
Cook: 10 minutes
Sponge Ingredients:
120 g flour
75 g whole wheat flour
207 g plain yogurt
82 g mature 100%-hydration sourdough starter
Final Dough Ingredients:
30 g flour
30 g whole rye flour
generous 1/2 t. salt
3/4 t. baking soda
1 T. honey
2 T. water
All of the sponge
Method:
In a medium bowl, mix the sponge ingredients with your hands until just combined. Cover and let rest for 8 hours or overnight.
Add the final dough ingredients to the sponge and mix to roughly combine. Turn the dough out onto the counter and hand mix for about 7 or 8 minutes, or until the surface becomes quite smooth. The dough will be very soft and sticky. Resist the urge to add more flour; it will become somewhat less sticky with mixing.
Flour the counter and your hands well, and pat the dough into a 6 x 9-inch rectangle about one-half inch thick. Cut the dough into six squares and place them on flour- or semolina-dusted parchment paper.
Cover and let proof for about an hour.
Heat a griddle over medium-low heat. Cook the muffins for a total of about 8 or 10 minutes on each side, until browned and the sides are firm. I find I get a better shape to the muffins if I flip them every couple of minutes for the first few minutes.
Cool on a wire rack. For maximal nook-and-crannny-ness , split the muffins with a fork rather than a knife.