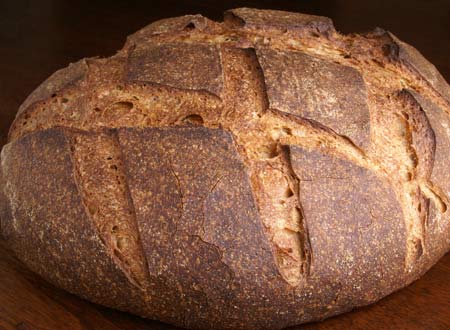 What's wrong with this miche? Absolutely nothing.
I've written about this high-extraction miche before. It's one of my favorite breads, and this loaf I made yesterday did not disappoint. I used the same recipe, same method as always. But something differentiates this particular miche from the other high-extraction miches that have gone before it, and indeed from all the other breads I have ever posted here.
This bread was made with tap water. Not only that, but the starter that leavened it was raised from scratch on tap water too. Now maybe this doesn't seem like a breakthrough to you, but it is to me.
We drink and cook with tap water. Tap water is, by most accounts, safer, cheaper, and more environmentally responsible than bottled. But until now I have always used bottled water for starters and doughs, because I had heard that chlorine or chloramine (chlorine's more stable, longer-lasting cousin) would inhibit yeast activity. Frankly, I'm not sure why I bought into this without my eyebrows raising even so much as a flicker. I am usually the world's biggest skeptic, and certainly the phrase "don't believe everything you hear" is one my kids are sick and tired of hearing from me.
Then a couple of weeks ago, Jeremy (Stir the Pots) challenged me. Is bottled water really better for bread? It was a fair question; time to find out for myself.
Our city water is treated with chloramine. Unlike chlorine, chloramine does not break down if you allow the water to stand for a few hours, and is left largely untouched by home water filters. So I knew that the tap water I'd be using in my experiments would definitely contain chloramine. Our water softener has been out of salt and non-functional lately, so I also knew that softened water would not be a potentially confounding factor (I've heard that softened water isn't good because yeast like the minerals in hard water).
I started two starters from scratch, one with my usual bottled water and one with water straight from the tap. They both did fine, but after four days or so the tap-water starter was a little bit more active than the bottled-water one. I eventually threw the new bottled-water starter away, and now have my new tap-water starter on the counter alongside my workhorse year-old bottle-fed one. They look, smell, and behave identically. I have fed the new starter with both filtered and non-filtered tap water, and it doesn't seem to make a difference.
Then I made some simple loaves with instant yeast. One dough with tap water, one with bottled. Again, no discernible difference.
And finally, yesterday's miche with the new tap-water starter. It wasn't a head-to-head trial against my old bottled-water starter, but I can tell you it was as fine a loaf as I've ever made.
The conclusion I'm drawing from all of this is that my chloraminated, unsoftened tap water seems to work fine for my bread baking. I'm not saying your tap water works fine; there are lots of factors in water that might make a difference. But if you currently use bottled water and have never tested the performance your tap water (because of what you may have heard from – ahem – some people), why not try it? You might be pleasantly surprised.
(I'm also not saying I necessarily endorse chloramine for municipal water treatment; I know there have been questions raised about its health and environmental effects. But it's what my tap water is stuck with for now.)
I might try turning the water softener back on and running these experiments again. On the other hand, I'm more inclined to just leave it off; we don't miss it all that much, and water softeners have their own environmental issues.
Thanks, Jeremy, for giving me a good kick in the butt about this. Until further notice, it's tap water for me.