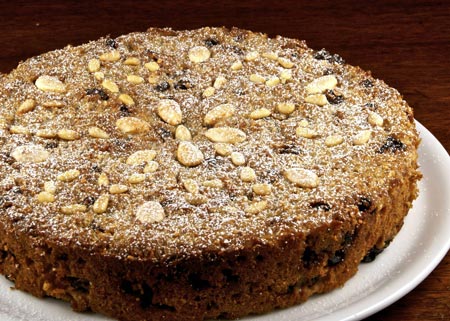 Am I a food blogger? If I am, I am a very bad one. What self-respecting food blogger would fail to document one of the most interesting restaurants she has ever visited?
About a year ago, we visited Lugano, Switzerland, and a college there that my daughter M was interested in. One evening, as the sun was setting, we boarded a boat that ferried us across Lake Lugano to a grotto, a traditional tavern typical of Ticino (try saying that five times fast), Lugano's Italian-speaking canton. This grotto was accessible only by boat, and appeared to be built right into the lakeside mountain. The night was warm, and we were seated on the side of the dining room that opened out onto the water.
It was too dark, even inside, for photos, but if I had been taking better notes (or any notes at all, actually) I would have been able to tell you the grotto's name (which, thanks to Google omniscient, I believe was Grotto dei Pescatori).
I would have been able to remember the names of some of the dozens of antipasti — fish, meats, vegetables, cheeses — laid out on the colossal wooden table from which we served ourselves in a cool room adjoining the dining room.
I would have been able to describe in detail the delicious fish our host brought after I responded "pesce" to the question "carne o pesce," which was as close as things ever got to ordering from a menu. (Actually, I would have been able to remember the Italian for "meat or fish?" without having to use an online translator just now. And I do hope I got it right; I'm sure I'll hear about it if I didn't.)
And I would have been able to say with certainty that dessert was torta di pane. It's a good bet that it was, though, because according to Nick Malgieri, in whose lovely book A Baker's Tour I found this recipe (as I was browsing my cookbooks looking for something to do with all the baguettes I have lying around lately):
"This bread-based cake is a common offering in a grotto, a type of rustic mountainside restaurant, usually outdoors, that serves only the old specialties of the region — sliced cured meats, polenta with a variety of homey toppings, and of course torta di pane for dessert."
M ended up attending that college, so I have a great excuse to go back to Lugano, and when I do, I'm taking a pen.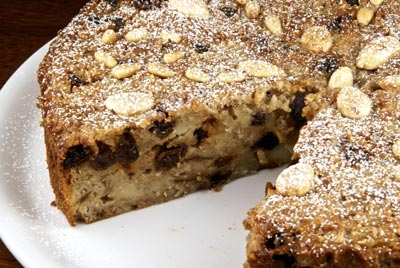 Torta di Pane
(Rustic Bread Pudding Cake)
Yield: one 10-inch cake
Time:
Prepare: 20 minutes
Bake: 60 – 80 minutes
Ingredients:
400 g slightly stale French or Italian bread, cut into 1/2-inch cubes
zest of one lemon, finely grated
975 g (4 cups) whole milk
300 g eggs (6 large)
250 g sugar
1 t. ground cinnamon
1 t. Dutch-process cocoa
1/2 t. ground nutmeg
2 t. vanilla extract
115 g blanched or unblanched almonds (I used blanched)
285 g raisins
pine nuts and whole blanched almonds for top
2 T. unsalted butter for top
confectioner's sugar for top
Method:
Preheat the oven to 400F, with the rack in the middle position.
Butter a 10-inch diameter, 2-inch deep, straight-sided cake pan. Line the bottom with parchment paper, and butter the parchment.
Process the 115 g almonds in a food processor until they are finely ground.
Working in batches, process the bread cubes in a food processor until they are coarse crumbs. Combine the crumbs with the lemon zest in a large bowl.
Heat the milk to a simmer over medium heat. Pour the hot milk over the crumbs and let stand for 10 minutes.
In a large mixing bowl, whisk the eggs, then whisk in the sugar in a stream. Sift the cinnamon, cocoa, and nutmeg into the egg mixture, add the vanilla, and whisk to combine.
Stir in the soaked bread crumbs, then the ground almonds and the raisins.
Spread the batter into the prepared pan and smooth the top. Arrange the onie nuts and whole blanched almonds decoratively on the top. Dot the top of the cake with the 2 T. butter.
Once the cake is in the oven, reduce the temperature to 350F. Bake for 60 – 80 minutes, until the top is golden and a toothpick comes out clean. (Malgieri specifies about an hour; mine took 80 minutes to golden up.)
Cool the cake in a pan on a wire rack.
Invert the cake onto the rack, remove the parchment paper, and re-invert onto a plate.
Sift confectioner's sugar over the top of the cake. Cut into squares (the traditional grotto style, according to Malgieri) or slices for serving.
This is going to YeastSpotting this week. If you'd like to participate, get the details here.