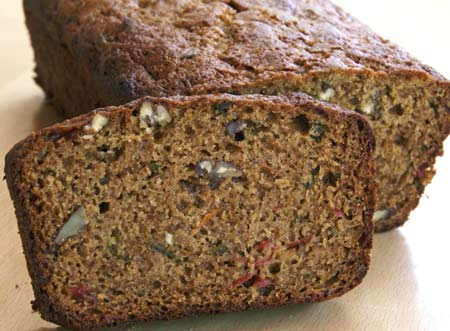 In the small town where I spend some (not nearly enough) time, there is a used bookstore. It is almost always open, but the owner has never been there whenever I've stopped in. He does, however, leave a price list posted next to the money jar:
Ordinary Books: $1.00
Good Books: $2.00
Extraordinary books: $3.00
Great Books: $5.00
Spectacular Books: $10.00
Unbelievably Great Books: $20.00
I always like to browse the cooking section, and occasionally, amid titles like "1001 5-Minute Meals" and "The 1983 Annual Campbell's Tomato Soup Cookbook," which bear faded covers that belie the near-perfect-condition pages that show just how much they were (not) loved, I discover a gem.
I had never heard of the little unassuming volume entitled Favorite Breads From Rose Lane Farm, nor of its author Ada Lou Roberts, but that didn't stop me from fishing into my pocket for a $5 bill. It was in good (not perfect!) condition, and it's generally a good bet that any 40+ year old bread book will turn out to qualify for Great Book status.
As I was about to drop the money in, I noticed that the insides of the front and back covers were filled with writing: the book's previous owner had recorded some of her own recipes. Now I knew it was a Great Book for sure. On second thought, better make that Spectacular. I dropped $10 into the jar.
Now I do have to confess that I am somewhat of a cookbook junkie, and a lot of my books are ones I love perusing, but rarely if ever make anything from. I just like knowing they're there if I ever need them. Favorite Breads was like that – I read through it, then tucked it on the shelf for a rainy day.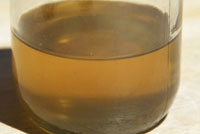 The rainy day wasn't really rainy; in fact it was a beautiful summer day on which I found myself face to face with a homegrown, rather enormous zucchini. It seems to be programmed into my DNA that overgrown zucchini must become zucchini bread, but there was a problem: I had no sugar in the house, and no butter either. (What kind of a baking kitchen am I running here? It's a fair question.) I did, however, have some olive oil and a pint of golden raw honey. I needed a recipe for honey-sweetened, oil-shortened zucchini bread.
Although it had been consigned to the shelf for long enough that I really didn't remember what specific recipes lived there, my instincts told me I might find one that fit the bill in Favorite Breads. But the index said otherwise: no zucchini bread here. But hold the phone, there it was, in black and blue and red ink inside the back cover: "My Own Zucchini Bread." What's more, it called for oil and no butter, and honey as the sole sweetener. Jackpot!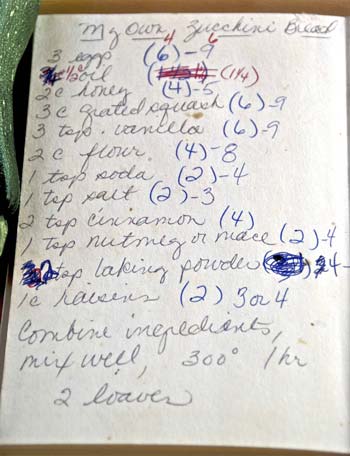 A few tweaks later – a little less honey here, the addition of some grated carrot there, throwing in some sourdough toss-off just because I could, etc. – I had what I don't mind saying was a Great bread, now My Own Zucchini Bread, recorded for some future used bookstore buff/baking enthusiast inside the back cover of the Unbelievably Great Favorite Breads From Rose Lane Farm.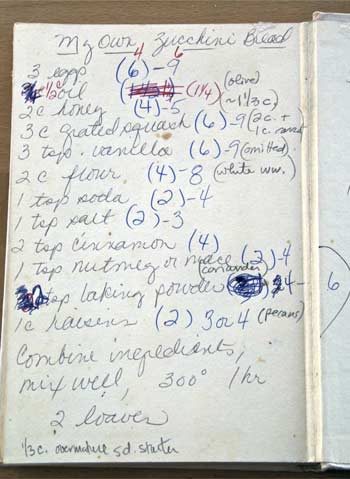 I think I owe someone another $10.
My Own Zucchini Bread
(adapted from My Own Zucchini Bread)
Ingredients:
3 eggs
1/2 c. olive oil
1 1/3 c. honey
2 c. coarsely grated unpeeled zucchini (discard the seeds)
1 c. coarsely grated carrot
2 c. (270 g.) white whole wheat flour
1 t. baking soda
2 t. baking powder
1 t. salt
2 t. cinnamon
1 t. coriander
1 c. coarsely chopped pecans
1/3 c. sourdough toss-off (can be overmature)
Method:
Preheat oven to 300F.
Oil two 8.5 x 4.5-inch loaf pans and line the bottoms with parchment paper, then lightly oil the paper.
Stir all ingredients together until just combined.
Bake at 300F for about 1 hour.