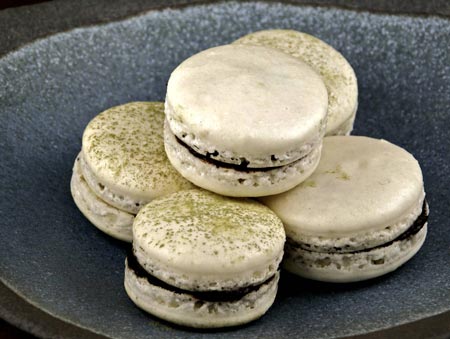 The 2009 October Daring Bakers' challenge was brought to us by Ami S. She chose macarons from Claudia Fleming's The Last Course: The Desserts of Gramercy Tavern as the challenge recipe.
When I was introduced to macarons in Paris two years ago, the puffy almond meringue sandwich cookies and I became fast friends. I was captivated by the delicate smooth crisp shell, ruffled "feet," chewy-soft interior, and shiny, creamy fillings, of these oh-so-French confections. But mostly I was seduced by the dazzling array of colors and flavors that beckoned from bright displays at the likes of Pierre Hermé, Ladurée, and countless other patisseries around the city.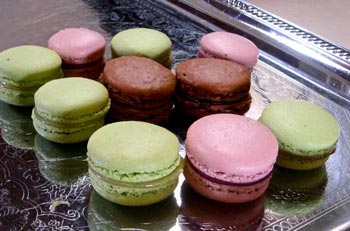 Blackcurrant Violet. Chocolate Passionfruit. Pistachio Caramel. Oh, the limitless possibilities…
So this month's Daring Bakers challenge excited and inspired me. I can do that! With almond meringue as my medium, my creativity will be unleashed and I too will present an eye-popping parade of macaron artistry.
And that is exactly what I did. I managed to make several varieties of macarons, and I'm pretty excited about how they turned out. I figure my line is broad enough that I'm all set to open my own macaronerie. Soon I'll be taking orders for:
The Underbaked Macaron
A thin, crisp shell (with feet!) surrounding a wet, sticky, married-to-the-silpat mess.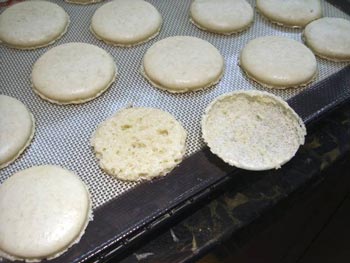 The Lumpy Macaron
Crafted with my special patented eggwhite-overbeating technique.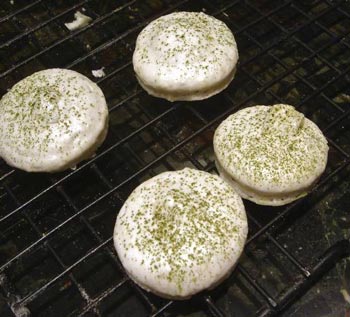 The Jaunty French Beret Lumpy Macaron
The Lumpy Macaron with an extra dose of je ne sais quoi.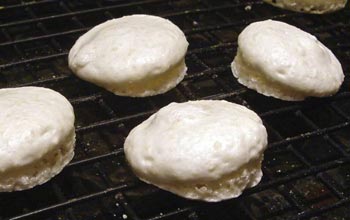 The Way Overbaked Macaron
Footless, smooth, brown, and chewy. Like a slug.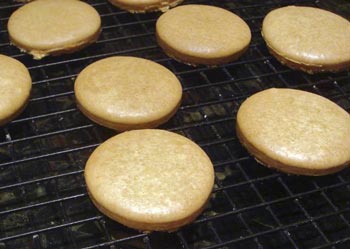 And finally, for a limited time only, the Not a Complete Disaster Macaron
Also pictured at the top with kukicha tea-infused chocolate ganache.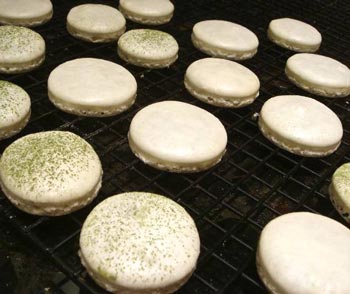 Filed in events • Trackback URI

Print with or without images
Comments Feed
Jane on October 27 2009 at 02:10 am:

But even when they're messed up, they're usually edible and even delicious. Maybe not stunningly beautiful, but darn good!

Chris on October 27 2009 at 02:20 am:

You can always make me laugh – thanks for sharing what most people wouldn't have even bothered taking a photo of!

Tracy on October 27 2009 at 03:51 am:

I love it! Made me chuckle 1st thing in the morning. Great post!

Captain Batard on October 27 2009 at 04:46 am:

I really like the Jaunty French Beret….
Hope all is well…

zorra on October 27 2009 at 06:06 am:

*lol* At least yours built some feet.

Laura on October 27 2009 at 06:09 am:

Great job! I love that you put pictures of the disasters, most people won't, so then we think they are all perfect.

I have one more flavor to make this morning and then will photograph and post about mine.

Rosa on October 27 2009 at 06:23 am:

what perfect macarons! I love the colors you used! Very well done!

Cheers,

Rosa

MommaT on October 27 2009 at 07:23 am:

Susan –
This is EXACTLY why I am a religious reader of your blog!

Baking requires a great deal of persistence, patience, humor and humility. Not only do you show us the gorgeous pictures of your final creations (which are, btw, always mouth-watering), but you show us the other facets of baking as well.

Sometimes cooking blogs remind me of fashion magazines – all the dishes (clothes) look beautiful and are presented on tables (figures) that look nothing like mine, giving me that overwhelming sense that I am not quite cutting it. But when I read Wild Yeast, I feel like a real person again!

Thanks,

MommaT

drfugawe on October 27 2009 at 07:37 am:

Luv it! You got style, girl.

Linda on October 27 2009 at 07:40 am:

I'll take a dozen of hose jaunty berets please!

thanks for brightening my day! That's why its daring, right?

Christi on October 27 2009 at 08:19 am:

I had a similar macaron journey. You are braver than I am (I did not post pics of the fails). That last batch is beautiful, though! And the others are still eat-able, never throw away a macaron, right?!

Consie on October 27 2009 at 08:39 am:

Ah, Susan, I love your sense of humor, and I sure wish you lived next door to me, so that we could share a cup of tea over some of these beauties.
I am intrigued by your description of the Way Overbaked Macaron – "chewy, like a slug". Now granted, I've never eaten a slug, or even tasted one. But I never really thought that they would be "chewy". Who knew? I guess I learn something new every day!
Thanks!

Caitlin on October 27 2009 at 10:46 am:

Oh, this made me giggle Kudos for posting all the variations in your "fall line" – I bet they all tasted great though!

Carter @ The Kitchenette on October 27 2009 at 10:49 am:

I also had a batch of "Oh my God when did the timer go off?!?" hard and crusty macarons. This is on my list of "Foods that I Effed up the first time but that I think I have the courage to try making again."

maybelles mom on October 27 2009 at 12:25 pm:

i love seeing your trails and tribulations. does that make me a sadist?

Rose on October 27 2009 at 12:32 pm:

You always make me laugh! "Like a slug" LOL!!!!! Your final product came out looking REALLY GOOD! No matter how long I baked mine, they seemed to not harden up on the bottom. Seriously 300′ for 6 minutes, then 8 minutes, then 12 minutes and they STILL stuck to the silpat after 12-15 minutes of baking! ACK!

Andreas on October 27 2009 at 01:37 pm:

Hehe, thanks for sharing.
I didn't have the time to make it past the "followed the recipe to a t, but still no feet" macaron.

elra on October 27 2009 at 03:39 pm:

They look perfect!

kristen on October 27 2009 at 04:03 pm:

you're funny! love all of your macarons and descriptions.

Memoria on October 27 2009 at 04:47 pm:

Wow your final macarons look perfect. Great job on this challenge.

Margie on October 27 2009 at 06:41 pm:

I'm so impressed! I haven't a clue as to how you do all that you do. Do you ever rest?
Seriously, these items have my mouth watering. I've yet to try my hand at this delicacy. I am so intimidated.


Susan at SGCC on October 27 2009 at 07:49 pm:

I just about fell off my chair reading this post!
I also had the both the Underbaked and the Lumpy. How did I miss the Jaunty French Beret? Sacre Bleu!

Jacqueline on October 27 2009 at 09:29 pm:

Priceless post. But hey, you made macarons! That is some seriously daring and brave baking, and the ones in your last photo look swell to me.

Natashya on October 28 2009 at 04:23 am:

Try, try again! You ended up with a wonderful product, good for you for sticking with it!

Alyssa H on October 28 2009 at 07:38 am:

Your post made me laugh, and I have to admit I had a similar experience with the challenge. Still who can complain about eating all the delicious discards? Your flavor combination sounds wonderful!

Rhonda Beck on October 28 2009 at 10:11 am:

How fun! Macarons can be quite fickle but they are so worth it in the end. I love that you publish your mishaps – it helps us all embrace our own disasters with a light heart.
It was great to meet you last week at SFBI. Boy – your class sure works hard! We enjoyed all the bread from your ancient grains week (thanks for hooking me up). I especially loved the buckwheat & teff breads. Thanks again!
~Rhonda (from Arcata)

baking soda on October 28 2009 at 12:16 pm:

You make me smile every time again! What a wonderful collection you have there! I'm partial to the French berets, they have a certain swoosh that is very enticing! Great job!

Elle on October 29 2009 at 09:55 pm:

Theme and variations are actually fun to see, especially the final photo with the perfect looking macarons. The infused tea ganache sounds like a wonderful combination with the macarons. Lucky you to have had macarons in Paris, too!

George@CulinaryTravels on October 30 2009 at 08:42 am:

They look fabulous Susan I love the flavour combinations you used.

Madam Chow on October 30 2009 at 09:12 am:

I have to say, every month when I read your Daring Bakers and Daring Cooks adventures, I almost pee myself laughing!

I ended up with quite a few malformed ones, but some pretty ones, too. I guess I need to practice!

SallyBR on October 30 2009 at 02:35 pm:

I am so glad I read this post!

I don't bake this "kind of stuff", way too daring for my poor skills…

Loved the French berets!

Great post….

Penny on October 30 2009 at 07:35 pm:

Too funny….it seems a lot of us had some failures!
I love how you described them…
I think the "Not a complete disaster" batch look beautiful!

Audax Artifex on October 31 2009 at 03:14 am:

LOL LOL LOL I love the menu line-up and the pixs are wonderful and I love your sense of humour. And the "Not a complete disaster" macarons are fabulous lovely colour and feet and the flavour combinations sound delicious. Cheers from Audax in Australia.

Stephanie on October 31 2009 at 12:07 pm:

I've been seeing these macaroon posts everywhere on the web. So daunting. I think your fall line just gave me the courage to give them a try. Thanks for sharing.

Daily Spud on November 1 2009 at 02:29 am:

First there was reality TV, now we have reality macarons… I love it!

For one thing, it means that, if I should ever attempt to make macarons (which won't be anytime soon) I'll know what to expect Meanwhile, those Jaunty French Beret Lumpy Macarons have got real style.

Jamie on November 6 2009 at 10:27 am:

You are so funny! I love seeing the array of MacFailures, but it was all a ruse to be doubly impressed by your fabulous final MacResults – MacSuccesses! They are perfect! Stunning and I'll bet super delicious.

Melissa L. on November 8 2009 at 07:12 pm:

SO FUNNY, Susan! You made me laugh out loud!! The macarons really do look great! Its so hard to decipher when they're done, isn't it??

I'm bummed we couldn't meet up this last time I was in SF – hopefully next time!

xoxo
Melissa

Caramella Mou on November 10 2009 at 03:36 am:

Hi Susan,

yes, The Curse Of The Macaron! Had it about this time last year and had to give up in the end, it's not healthy as I made enough batches to gve myself and the hubby malnutrition. And still, ever time I look at a bag of ground almonds, I keep thinking, maybe I should do another batch, maybe I'll get it right this time?

The good thing is, if you underbake, you can rescue by baking a bit more, at least it worked when I tried it.

Well done,

Caramella

ninu on November 24 2009 at 11:51 am:

hahah you are so funny!!! id like 50 french beret and 50 of those underbaked ones please…and make em snappy..=D

sydnee kennedy on February 23 2010 at 06:10 pm:

we learn the most about the functions of ingredients through our flops lol, the last ones are beautiful! Juliette makes them look so simple. I'm proud to say that I made the SFBI batch that you had with lunch and I am much better off in the macaron department thanks to her. Good luck!
Post a comment