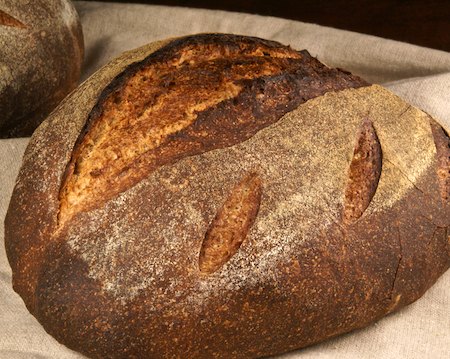 If you like assertively sour bread and a dark, flavorful crust, you will like this bread. If you don't like one or both of those things, please skip it.
Although I started out thinking this bread would be an adaptation of the Normandy Rye from Nancy Silverton's Breads from the La Brea Bakery, it turned out this bread didn't want to be that. Instead it wanted to be more sour and more rye. Although at about 41% rye flour I suppose it qualifies as only a light rye, the flavor is not light at all.
The crust on this wants to get really really dark, and you should let it. The crust in the photo below looks like it is burned, but it isn't. The sugars (which are in extra abundance here from the cider) have caramelized to give the crust a deep, sweet flavor that contrasts very nicely with the sour crumb.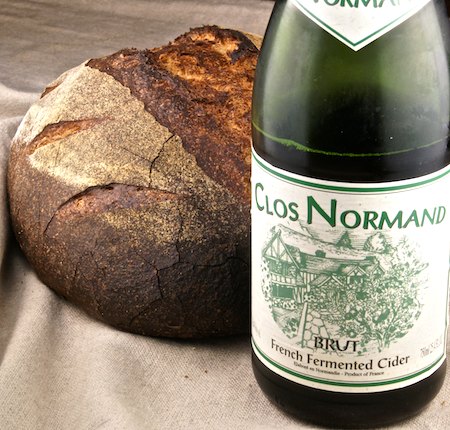 Apple Cider Rye
Yield: 2 kg (2 large loaves)
Time:
Mix: 30 minutes
First fermentation : 2 hours
Preshape, rest, and shape: 20 minutes
Proof: 2 hours
Bake: 45 minutes
Desired dough temperature: 80F
Ingredients:
578 g flour
277 g coarsely-ground whole rye flour (such as King Arthur Pumpernickel)
250 g fermented apple cider
282 g water
224 g mature 100%-hydration white starter
400 g mature 100%-hydration rye starter
20 g salt
20 g malted barley syrup (1 T.)
Method:
In the bowl of a stand mixer with dough hook, combine the flours, water, cider, and starters. Mix in low speed until roughly combined, then cover the bowl with a linen and let rest for 20 minutes.
Add the salt and barley malt syrup. Mix in low speed to combine. Adjust the water as needed to achieve a medium dough consistency.
Continue mixing in low or medium speed to a low-medium level of gluten development. This might take about 3 minutes, but will depend on your mixer.
Transfer the dough to a lightly oiled container. Cover and ferment at room temperature for 2 hours.
Turn the dough into a lightly floured counter. Divide into two pieces. Preshape them into balls and let rest, covered, for 15 minutes.
Shape the dough into tight balls, roll them to elongate them slightly, and place them, seam-side-up, on a lightly floured linen couche.
Proof at room temperature, covered, for about 2 hours.
Meanwhile, preheat the oven, with baking stone, to 500F. You will also need steam during the initial phase of baking, so prepare for this now.
Just before baking, slash down the center of each loaf, then three smaller slashes, at an angle, on each side of the central slash.
Once the loaves are in the oven, turn the heat down to 475F. Bake for 10 minutes with steam, and another 15 minutes without steam. Turn the oven down to 450F and bake another 10 minutes. Then turn off the oven and leave the loaves in for another 10 minutes, with the door ajar.
Cool on a wire rack.