It's that time of year when superlatives abound, and Zorra (1 x umrühren bitte) and Sandra (Un Tocco di Zenzero) are hosting Best of 2007 for food bloggers. (What, is that me? Who'd have thought?). Everyone is invited to submit the one recipe that stands above all the others among their 2007 entries.
Deciding on a single recipe to designate as my best gave me more than a little pause, as each bread exhorted, "Pick me! Pick me!" From Norwich Sourdough: "You know I'm the most reliable and versatile bread ever to grace your oven. You can't live without me!" But here's Semolina Bread with Fennel, Currants and Pine Nuts, giving me that golden yellow, jewel-studded, come-hither look. "You want a piece of me?" barks beefy High-Extraction Miche as he muscles them both out of the way. "I can take the two of you with my hands tied behind my back!" And so on.
No, it wasn't easy, but I do have a winner, which I will announce forthwith (before I change my mind again). But first, just a tiny break for station identification:
You are reading Wild Yeast. Be sure and tune in next week, when Susan will reveal which of her children she loves more.
And now, I give you my prize, top, best, favorite (of the moment) recipe of 2007: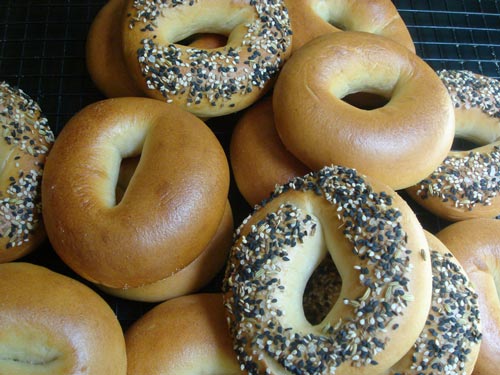 In the end, I was won over by the bagels' cogent, self-possessed argument:
We just shine on so many levels. Besides being, literally, shiny:

Who doesn't love a good bagel?
Between the mixing, dividing, shaping, and boiling, you get lots of quality time with the dough. (You know you're not one for those "no-knead" breads that pretty much make themselves.)
We are beautiful naked, but can be dressed up with toppings in any way imaginable.
Once you have an active sourdough starter in hand, we are surprisingly easy to make.
Our overnight rest in the refrigerator means you can have fresh-baked bagels first thing in the morning.
We are very photogenic (don't you think?).
We freeze well.
Yes. Congratulations, Bagels!
For anyone who hasn't yet submitted their own Best of 2007, there's still time; the deadline is December 28. Go!