The 2010 April Daring Cooks challenge was hosted by Wolf of Wolf's Den. She chose to challenge Daring Cooks to make Brunswick Stew. Wolf chose recipes for her challenge from The Lee Bros. Southern Cookbook by Matt Lee and Ted Lee, and from the Callaway, Virginia Ruritan Club.
Go figure. In past months, we Daring Cooks have made dishes originating from China (potstickers), Viet Nam (pho), Italy (risotto and gnocchi), India (dosas), the Middle East (mezze), and Thailand (satay). Although the cooking of these things may have been unfamiliar to me, the dishes themselves were not; I had eaten (and love) all of this fare from far-flung lands, thanks to the wonderfully diverse and food-centric part of California I call home. This month, however, when we were charged with preparing traditional American eats — the Southern classic Brunswick Stew — I was caught without a clue.
I learned a few things about this Brunswick Stew. For example:
Its origin is variously credited to Brunswick County, North Carolina; Brunswick County, Virginia; or Brunswick, Georgia.
It is typically made with a combination of meats, which may include chicken, pork, rabbit, and squirrel. Since my freezer is full of a variety of non-rodent meats, I opted for a pork and chicken interpretation.
It has a variety of vegetables (corn, tomatoes, onions), and almost always includes lima beans or butterbeans. Are these the same thing? Some sources say they are, while some say that the butterbean is the fava bean, which I know to be quite distinct from the lima. At any rate, since I didn't find fava beans on shopping day, I substituted edamame  instead of going with lima beans. I was willing to relinquish a few authenticity points because I just could not rationalize spending good money on a bean that I have tried many times to like but just cannot seem to forge a relationship with.
It might be served with cornbread. I found a crusty sourdough to be a worthy, if again inauthentic, accompaniment.
Finally, and perhaps most importantly, I found out that a true Brunswick Stew must be so thick that a spoon stands up straight in it. By that measure, I guess I pass.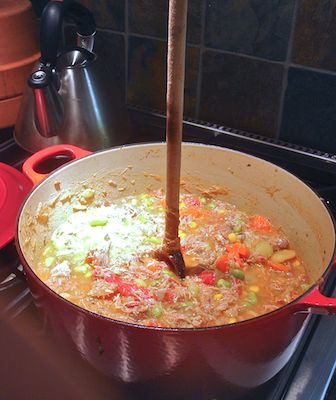 If you're in the mood for more Brunswick Stew spoon tricks, you'll find them today, courtesy of hundreds of other Daring Cooks.