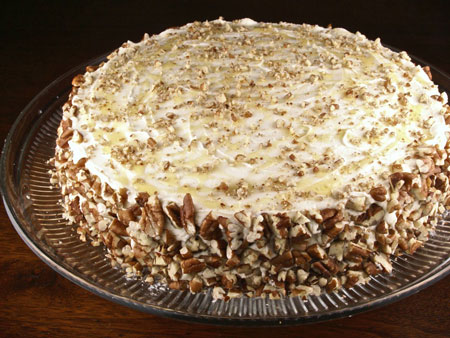 I think we have established by now that I am generally afraid of baking cakes. I fear that it won't rise, or it will fall, or it will organize its temperamental little self into foam, sauce, and jelly-jammy layers because I failed to beat the egg whites just so. I worry that it will stick to the pan and come out in pieces so I have to make a "German Chocolate Trifle" for my husband's birthday. Or it will be underbaked in the middle and I will not discover, until it is already on my guests' plates and on its way to their mouths, that my lovely apple upside-down cake is actually apple upside-down pudding. (All theoretical concerns, of course, not that any of these things has actually happened to me.)
Well. This month's Daring Bakers challenge (or "mob bake," as my husband calls it) brought a whole new meaning to the phrase "fear of cake." The way I see it, any recipe whose author admonishes you not to slip up or you're looking at a trip to the ER definitely warrants an extra dose of serious baking anxiety. Not to mention full body armor.
The recipe in question was Shuna Fish Lydon's famous Caramel Cake, and the potential pitfalls were so numerous it was hard to know where to begin hyperventilating.
So I did what I always do when I start to feel overwhelmed: I made a list. This list allowed me to give every imaginable hazard and snag along the way its proper teeth-gnashing, palm-sweating, heart-racing due, knowing that I would eventually get to each in turn and no detail would be left unfretted.
I'm just sharing a few highlights, but if you're thinking about baking the cake, email me and I'll be happy to send you the complete inventory so you too can experience your profound angst in a highly organized fashion.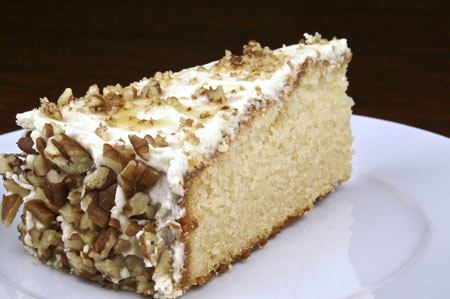 Things to Worry About When Baking Shuna Fish Lydon's Caramel Cake
(Abridged List)
Worry #1: You will burn yourself (remember that trip to the ER I mentioned?) when you pour water into smoking-hot melted sugar to make the caramel syrup.  You must make sure you have not an inch of exposed skin. I found this involves not only long sleeves, as Shuna recommends, but oven mitts, a scarf wrapped around your face, safety goggles, and your daughter's fleece-lined Crocs or whatever other closed-toe footwear is nearest at hand. But even with all of this, do you feel safe? Me neither. Panic on!
Worry #2: The UPS man will ring your bell as soon as you've donned the getup in #1. Keeping fingers crossed worked well for me on this one — this time. Still, you never know when your luck will run out.
Worry #5: Your caramel will burn. I advise getting so worked up about this Worry that you way undercook it and wind up with a syrup the light golden color of something that is best not mentioned in a post about food chamomile tea, which will still give you a very nice, if light-colored and probably a little underflavored, cake.
Worry #17: Your cake batter will separate when you add the milk. Oh sure, you can try making sure the ingredients are really at room temperature and all the other things Shuna suggests, and maybe your luck will be better than mine. And never mind that it came together again in the end after all the dry ingredients were in; it was touch and go the whole time. So I suggest you get an early start on this Worry. No sleep for you tonight.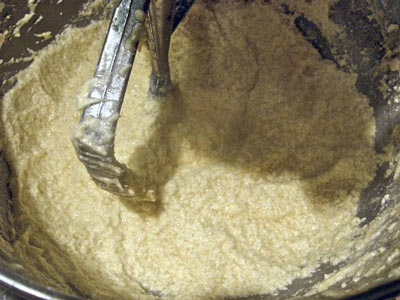 This ought to give you a few good nightmares
Worry #24: The cake won't rise. The solution to this is simple, provided you have a window on your oven door: turn the oven light on and plant yourself in front of that baby for the first 30 minutes of baking. DO NOT MOVE. DO NOT LET YOUR EYES STRAY FROM THE CAKE. ONE FALSE MOVE AND YOUR CAKE IS HISTORY. This method, if (and this is a big if) you are disciplined enough to execute it flawlessly, guarantees the cake will rise enough to have the texture of pound cake, and this is not at all unpleasant. (I have a theory, albeit unproven, that if you sit yourself down there for the full 45-minutes of baking time, you'll get a 50% higher rise. Try it and let me know how it works — but be sure to add leg cramps and a stiff neck to your list of Worries.)
Worry #52: You will over-burn the butter for the frosting. You won't experience the full effect of this Worry until you're looking at a pot full of furiously foaming butter and realize you really have no idea what color it's turning under there. My advice is to just hope for the best (and expect the worst, of course). The fact that mine turned out fine should not deter you from planning ahead for a few exciting minutes of hand-wringing.
| | |
| --- | --- |
| Who knew 12 T. of butter could completely fill a 1.5-qt. pan? | Nicely browned butter, the color my caramel should have been |
Worry #76: Your attempts to drizzle the caramel over the top of the cake will turn out more like blobs. So you can experience Maximal Worry Effect, I will not tell you that finely chopped toasted pecans are your friend.
Worry #100: Your people won't like the cake. [I couldn't in good conscience leave #100 on there. They will love it!]
In all seriousness, despite my inexpert execution and propensity for drama, I am quite happy with the way this turned out. Thanks to Shuna, to our challenge hosts — Dolores (Chronicles in Culinary Curiosity) and her helpers Alex (Blondie and Brownie), Jenny (Foray Into Food), and Natalie (Gluten-A-Go-Go) — and to DBs' fearless and tireless leaders Ivonne (Cream Puffs in Venice) and Lis (La Mia Cucina), for another fun and delicious (and very Daring!) challenge. Now, what better way to spend a Saturday than making the rounds of the other mobsters Daring Bakers' gorgeous caramel cakes?