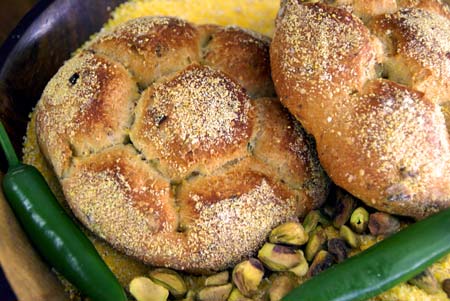 These blossom-shaped rolls are my entry for this month's Paper Chef. The challenge presented by Ilva (Lucullian Delights) was to create a "flower"-themed dish using polenta, pistachios, and chili peppers.
Although Ilva helpfully suggested several culinary flowers one might incorporate, I chose to fulfill the theme through shape rather than ingredient. I hope this is considered an acceptable interpretation. Also, although the bin from which I scooped the coarsely ground cornmeal in the store was clearly labeled "Polenta," I wonder if maybe it's not technically polenta until it's boiled. I didn't boil it because I wanted to retain some bite to contribute to the bread's texture.
But even if I'm disqualified on one or both of those counts, these are some tasty rolls that were fun to conceive and bake.