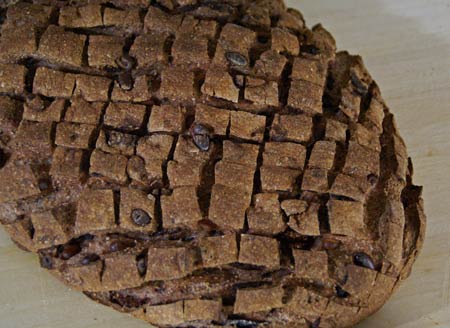 For the record, let me say that any home-baked bread, and indeed all home-cooked food, has aphrodisiac potential. Any lover who does not recognize a lovingly-prepared dish as an eminently romantic gesture is clearly the wrong sort of lover.
That said, there are of course a few foods reputed to possess extraordinary amatory powers. In honor of this month of love, here's a bread whose three starring ingredients are officially on Aphrodite's List:
Red wine stimulates the senses and relaxes the body and mind.
Pine nuts are rich in zinc, an essential mineral for male potency. (Does anyone get "Pi|\|e |\|uts" spam?)
Figs' aphrodisiacal power is said to lie in their resemblance to the female anatomy.

The recipe, adapted from from Dan Lepard's The Handmade Loaf (a must-have for any serious bread-baker's library), is my contribution to Mele Cotte's Kitchen of Love.
This flat, dense loaf has an incredibly rich, sweet flavor that is amazing with tangy cheeses. Guaranteed to leave your beloved begging for more.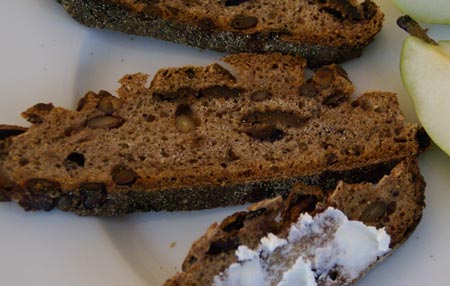 Red Wine Loaf with Pine Nuts and Figs

Yield: 1450 g (2 loaves)
Time:
Soak figs and pine nuts: 8 – 12 hours
Mix: 45 minutes (very little of this is active time)
First fermentation: 1 hour, with folds at 30 and 60 minutes
Divide/rest/shape: 10 minutes
Proof: 2 hours
Bake: 50 minutes
Wine soaker ingredients:
250 g red wine
100 g pine nuts
200 g dried figs, cut into eighths
Final dough ingredients:
250 g flour
250 g whole wheat flour
265 g liquid (wine drained from soaked figs/nuts, plus enough water to make 265 g) at room temperature
10 g salt
2 g instant yeast
166 g mature 100%-hydration sourdough starter
all of the soaked, drained figs and pine nuts
Method:
Combine all of the wine soaker ingredients in a saucepan and heat to boiling. Simmer for a minute and remove from the heat. Leave covered overnight, stirring once before bed.
Drain the figs and nuts, reserving the drained wine. Combine the wine with enough water to make 265 g.
In a large bowl, combine the flours with the salt. In a medium bowl, whisk together the starter, wine/water, and yeast.
Add the liquid ingredients and figs and nuts to the dry ingredients. Mix with your hands until the ingredients are just combined. Cover and let rest for 10 minutes.
Turn the dough onto a lightly-floured counter and knead for 10 – 15 seconds. Return the dough to the bowl, cover, and let rest for 30 minutes.Knead the dough for another 10 – 15 seconds.
Return the dough to the bowl, and let it ferment, covered, for one hour, with a fold at 30 minutes and another at the end of the hour. The dough will not have expanded much in volume.
Divide the dough into two pieces and shape them lightly into balls. Cover with a cloth and let rest for 5 minutes.
Using as little flour as possible to prevent sticking, roll each ball into an oval about 3/4″ thick. Place the ovals on a floured linen, and cover with another cloth.
Proof the loaves at room temperature for 2 hours. They will not rise very much.
Meanwhile, preheat the oven, with baking stone, to 410F. You will also need steam during the initial phase of baking, so prepare for this now.
Before baking, slash each loaf in a criss-cross pattern with the slashes about 1/3″ apart.
Bake with steam for 15 minutes, then another 30 minutes or so without steam. The loaves should be a dark rich brown. Then turn the oven off and leave the loaves inside, with the door ajar, for another 5 minutes.
Place the loaves on a wire rack to cool.