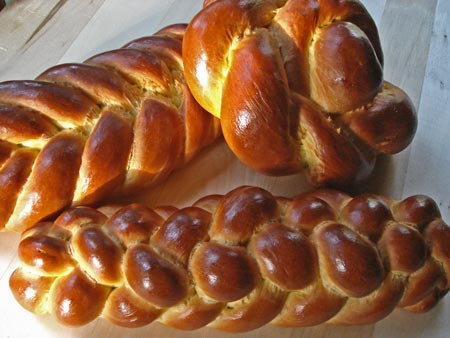 Manuela of Baking History is our gracious host for BreadBakingDay #04. When she announced that the theme for this month would be "Bread with Spice(s)," I immediately thought of a bread that I've had in mind to try for a while now: saffron challah.
I love saffron, I love challah, and I love to shape dough, so I was in my own little heaven with this one. Challah is the most amazing dough –– it starts out so stiff you think the only thing you're going to be able to produce with it is some sort of weapon… but then darned if it doesn't ferment its beautiful golden self into the most supple, silky, workable stuff you've ever had the pleasure of holding in your hands.
Challah lends itself spectacularly well to a multitude of braided and other shapes. I decided to go with three braids that look intricate but are simple to do. One has two strands, the other two have six strands each. Notes on the shaping follow the recipe.
For this bread, I adapted the (basic, non-saffron) challah recipe found in Bread: A Baker's Book of Techniques and Recipes by Jeffrey Hamelman. It's one I've made before with excellent results. I added the saffron by simply steeping ground up saffron threads in hot water and using the cooled water in the dough. This imparted a saffron scent to the loaf that was noticeable but not overwhelming.
I really love toasting this bread, which not only enhances the saffron but gives the crust an amazing and unique tender-crispness. Day-or-two-old challah also makes fantastic French toast.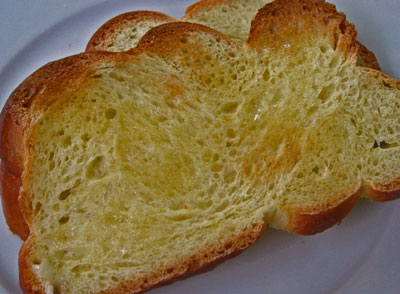 Saffron Challah
Yield: 1500 g (3 loaves)
Time:
Prepare and cool saffron water: about 1 hour
Mix: 10 minutes
First fermentation: 2 hours, with degassing at 1 hour
Divide/shape: about 20 minutes
Proof: 1.5 – 2 hours
Bake: 30 minutes
Desired dough temperature: 79F
Ingredients:
600 g flour
300 g high-gluten flour
300 g water
7.4 g (2 3/8 t.) instant yeast
17 g (scant Tablespoon) salt
a generous pinch of saffron threads
51 g sugar
80 g egg yolk (4 yolks)
100 g whole egg (2 eggs)
68 g vegetable oil
One egg for egg wash
Method:
Grind the safrron threads in a mortal and pestle or with the back of a spoon.
Boil about 3/4 cup of the water and pour it over the saffron threads.
Let the water cool to room temperature. Combine this water with ice water to make the amount of water needed for the dough.
Combine all of the dough ingredients in the bowl of a stand mixer. Mix on low speed until just combined, about 3 minutes. The consistency of the dough should be quite stiff.
Mix on low or medium speed until the gluten has reached nearly full development. This may take about 5 minutes, but will depend on your mixer.
Transfer the dough to a covered, lightly oiled container. Ferment at room temperature for 2 hours. After the first hour, gently press the dough to degas it.
Turn the dough onto a very lightly floured counter and divide it into 3 pieces of about 500 g each. Further divide each piece, depending on the number of strands you want for each loaf.
Braid or otherwise shape the dough as you please (see shaping notes below). Place shaped loaves on a large parchment-lined baking sheet, spaced as far apart from each other as possible.
Beat one egg with a fork and mix it with a teaspoon or so of water. Brush the egg wash lightly onto the loaves. Save the remaining egg wash.
Slip the loaves into a large plastic bag or cover with plastic wrap. Proof at room temperature for 1.5 – 2 hours, until the dough springs back very slowly when pressed lightly with your finger.
Before baking, give the loaves another light coating of the egg wash.
Bake the loaves for about 30 minutes, until the crust is a shiny dark brown.
Place the loaves on a wire rack to cool.
Shaping notes:
Make sure your counter does not have too much flour on it when you roll out the strands. Your dough needs to grab the counter a bit to be able to roll well.
For the two-stranded rosette, I divided the dough into two equal portions and rolled each one out into a tapered strand about 24 inches long. I wound the strands together like rope, then coiled the rope up into a spiral.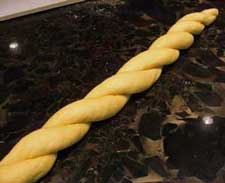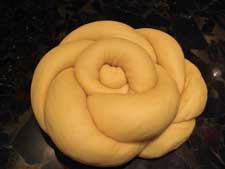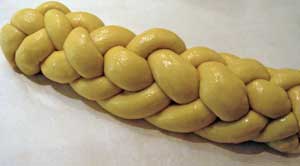 For this six-braid, I followed Maggie Glezer's instructions in her challah recipe on the Fine Cooking website. At first glance, the diagrams may look a tad confusing, but don't be put off. The back-and-forth mantra here is "second from RIGHT strand goes over to the far left; RIGHT strand goes to the middle; second from LEFT strand goes to the far right; LEFT strand goes to the middle." As you can see, I still need to work on tapering my strands more to get that nice torpedo shape.
The second six-strand shape is even easier. Just as with the common three-strand braid, chant "RIGHT strand into the middle, LEFT strand into the middle" a few times, and you're done in 30 seconds flat.