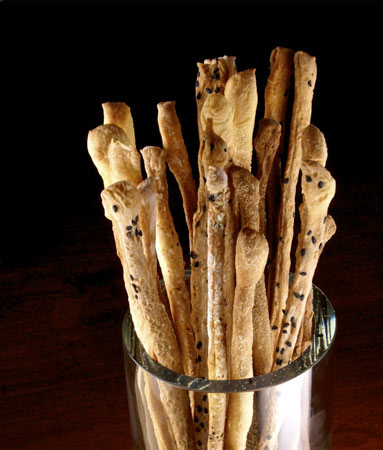 As far as I'm concerned, there is no more perfect party food than grissini. A bouquet of these thin bread sticks looks beautiful and never fails to draw a crowd. They're crunchy and savory and can be picked up and eaten with one hand.
But let's face it, if you have to roll several dozen of these things individually you may be arriving a little late to your own party. It's not that I don't love hands-on time with my dough, but sometimes just a little more efficiency is in order.
In her book The Italian Baker, Carol Field describes how Italian bakers do it, by simply stretching the elastic dough with the hands. For me, this was not only faster but produced wonderfully rustic, knobby-ended grissini. (Do you know me? I am nothing if not a fan of rusticity!)
I love my grissini thin thin thin. If you prefer something a little plumper, roll the dough into a 6 x 4-inch (rather than 12 x 4) rectangle, and cut it into only 8 pieces rather than 16.
This sourdough recipe is very flavorful (and makes nice pizza as well), but yeasted grissini are great too!