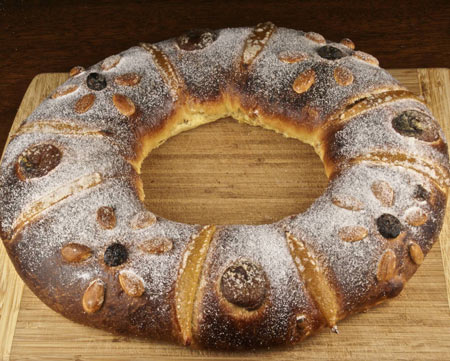 In the western Christian tradition, Epiphany is celebrated on January 6. Although this is not a day that I personally observe, on our recent trip to Mexico I was interested to learn about the Mexican Epiphany, Día de Los Tres Reyes Magos (Three Wise Kings Day), when the Kings are said to have arrived bearing gifts for the baby Jesus. This day is the traditional day of gift exchanging, and it's not Santa but the Three Kings who leave presents for the children in the night.
Rosca de Reyes is the sweet ring bread that is enjoyed during this time. According to custom, a small porcelain baby Jesus is baked into the bread, and whoever gets the doll in his or her piece must host a party on February 2, Candelaria Day.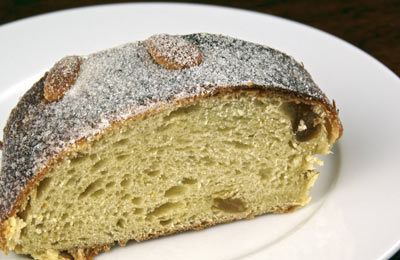 According to Diana Kennedy, from whose book The Art of Mexican Cooking I adapted this recipe, candied fruits in and on the ring are optional, and most often include figs, orange peel, and citron peel. I didn't have any of those on hand, but I did have some candied lemon peel, dried apricots, and golden raisins, which I soaked in hot water before adding to the dough.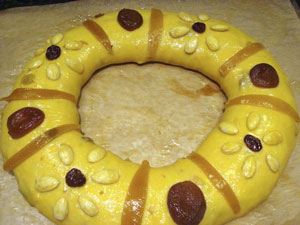 For the top I used strips of candied lemon peel, dried apricot halves and dried cherries, all soaked, as well as some blanched almonds. The result is somewhat more rustic looking than the breads adorned with bright red candied cherries and green citron peel, but I like to think it's just as delicious.
Oh, and since I also didn't have any porcelain babies on hand, I tucked a dried bean into each loaf. Discovery of the lucky winners is pending.
Rosca de Reyes
(Adapted from The Art of Mexican Cooking by Diana Kennedy.)
Yield: about 2 kg (2 loaves)
Time:
Mix and ferment starter: 2.25 hours
Mix final dough: about 20 minutes
First fermentation : 1.5 hours
Preshape, rest, and shape: 30 minutes
Proof: about 3 – 3.5 hours
Bake: 20 minutes per loaf
Starter Ingredients:
450 g flour
15 g salt
60 g sugar
10 g instant yeast
150 g (3 whole) eggs at room temperature
145 g water at room temperature
Final Dough Ingredients:
all of the starter
450 g flour
65 g water at room temperature
160 g (8) egg yolks at room temperature
grated zest of one orange, or 1 t. orange flower water
225 g sugar
200 g unsalted butter, softened
chopped candied or dried fruits (optional; I used 60 g each candied lemon peel, dried apricots, and golden raisins, all soaked in hot water and drained before adding to the dough)
Topping Ingredients:
2 egg yolks, lightly beaten
2 T. melted butter
granulated sugar
fruits and/or nuts (optional; I used candied lemon peel, dried apricot halves, and dried cherries, all soaked, and blanched whole almonds)
Method:
In the bowl of a stand mixer with a dough hook, combine all of the starter ingredients. Mix until the dough forms a smooth elastic mass around the dough hook. For me this took about 10 minutes.
Remove the dough hook, cover the mixing bowl, and allow the starter to ferment until doubled, about 2 hours.
To the fermented starter in the mixing bowl add the final dough flour, egg yolks, water, orange zest, and about half the sugar. Mix with the dough hook on low speed until combined, about 4 minutes. Don't be alarmed if the dough is rather stiff.
Turn the mixer to medium speed and gradually add the rest of the sugar. Continue mixing until the dough reaches almost full gluten development. The dough will be quite sticky.
Add the butter and mix in low speed for a minute or two, then in medium speed until the butter is fully incorporated into the dough.
Turn the mixer back to low speed and add the fruit. Mix until just incorporated.
Transfer the dough to a lightly oiled container. Cover and ferment for 1.5 hours at room temperature.
Turn the dough into a lightly floured counter. Divide it in two pieces. Shape each piece into a tight ball and let rest, covered, for 20 minutes.
Line two baking sheets with parchment paper.
For each loaf, poke a hole in the center of the ball. Using floured hands, gently stretch the dough into a ring shape and lay it onto a prepared baking sheet.
Proof, covered, for about 3 hours, or until almost doubled. (Since the loaves are baked one at a time unless you have a giant oven, the second loaf will proof for about 25 minutes longer than the first.)
Meanwhile, preheat the oven to 400F.
Before baking, decorate the top with fruit and brush the dough and fruit lightly but thoroughly with egg yolk.
Bake for 15 minutes, until browned. Remove the loaf from oven, brush with melted butter, sprinkle with sugar, and return to the oven for another 5 – 8 minutes. The internal temperature should be at least 190F.
Cool on a wire rack.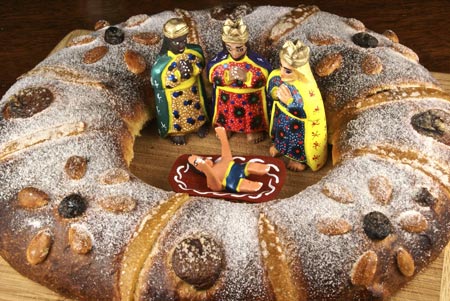 This goes to Zorra (1x umrühren bitte) for "Make Your Own King Cake."