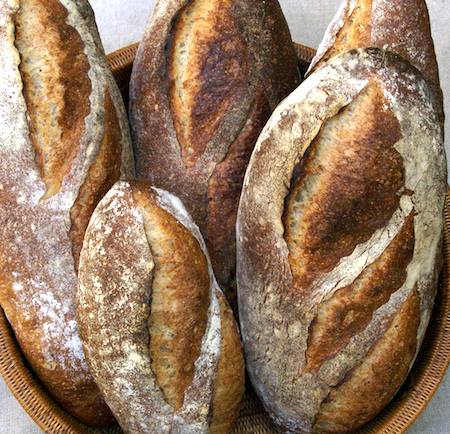 I am excited to announce that I will hold a bread baking workshop here in my Mountain View kitchen on Saturday, March 5.
— Update: The workshop is now sold out. Please contact me if you would like to be added to the waiting list, or to my mailing list for announcements of future workshops! —
What:   Home bread baking workshop
When:   Saturday, March 5, 2011; 9 a.m. to approximately 5 p.m.
Where:   My kitchen in Mountain View, California
Why:   Bread, learning, fun
I have already shared a lot of what I know about baking bread on this blog. But there are some things you just can't convey with words and photos — you have to get your hands in the dough!
In this day-long workshop, we will bake two breads, one mixed by hand and one in a stand mixer. I will show you how I gauge dough consistency and gluten development, and shape boules and batards, with plenty of extra dough on hand for shaping practice. We will also talk about selection of ingredients, basic bread science, and setting up a home oven for hearth baking.
I will even feed you lunch!
If you're interested, please contact me for pricing and details on how to sign up.
I hope to be baking with you soon!
— Update: The workshop is now sold out. Please contact me if you would like to be added to the waiting list, or to my mailing list for announcements of future workshops! —