The Good, the Bad, and the Ugly Lasagna

A Daring Bakers Film
Produced and Directed by Susan
Screenplay by Mary (Beans and Caviar), Melinda (Melbourne Larder),
and Enza (Io Da Grande)
Based on "Lasagne of Emilia-Romagna"
from The Splendid Table by Lynne Rossetto Kasper
The March 2009 challenge is hosted by Mary of Beans and Caviar, Melinda of Melbourne Larder and Enza of Io Da Grande. They have chosen Lasagne of Emilia-Romagna from The Splendid Table by Lynne Rossetto Kasper as the challenge.
The Good:
It tasted great. The family loved it. There was not a single sliver left over.
The Béchamel sauce was lump-free.
I tried, I really tried, to roll by hand. I rolled a quarter of the dough by hand. Therefore, I think I was a good, or at least semi-dutiful, Daring Baker.
The Bad:
My hand-rolling was a complete and total failure. I just could not get that thing to roll without ripping. I think my dough was too wet, because the directions said it should feel sticky. When I make pasta to roll by machine, it doesn't feel sticky (or maybe my definition of sticky is different), but I thought maybe something about hand-rolling needed the dough to be stickier. In retrospect, I don't think so.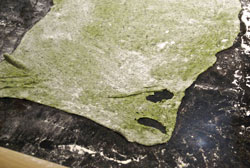 Finally I got it into something cohesive and roughly the shape of Spain (but a lot smaller). At least I rolled it out until I could see my hand behind it, see?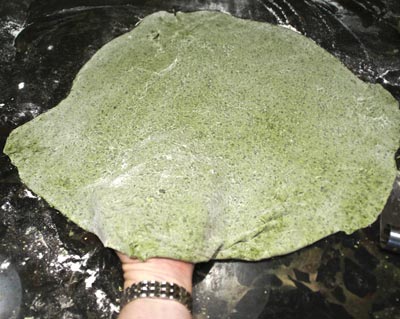 Oh, you don't? Is this better?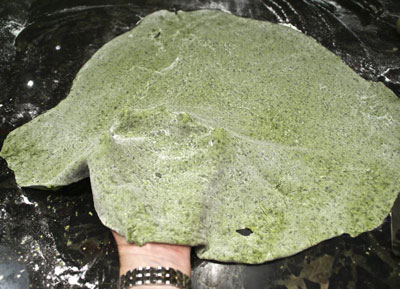 I cheated and did the rest of the rolling by machine. I took to heart the instructions to roll as thinly as possible, and took it to maximally thin "8" on the KitchenAid pasta roller attachment.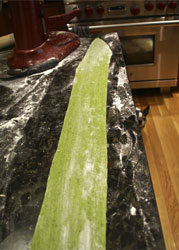 Because I was seriously pressed for time, having committed to take this thing to my sister's for dinner and having spent almost a full hour trying to hand-wrangle the beast, I only rolled 2/3 of the dough and only cooked 3/4 of what I rolled. But they were rolled so thin that I only needed 2/3 of what I cooked to assemble the lasagna. If you do the math, this means I only ended up using 1/3 of the total dough in the actual lasagna. So it should come as no surprise that those noodles just disappeared, you could not even tell they were there in the finished product. Who is it that said you can't be too rich or too thin? I don't know about too rich, but I'm here to tell you that too thin can definitely happen.
The Ugly:
I wish I could tell you that the photo looks ugly because I was at my sister's house and didn't have my good camera or good lighting and everyone was telling me to hurry up already, we want to eat. But I can't lie. The lasagna really was this ugly. Go ahead and laugh, because that's what I did, after I cried.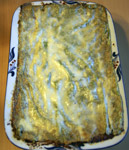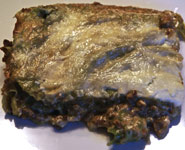 As always, you can find plenty of evidence that the fault here is all mine and not that of the recipe, simply by checking out the beautiful and gorgeous lasagne of each and every Daring Baker who is not me.