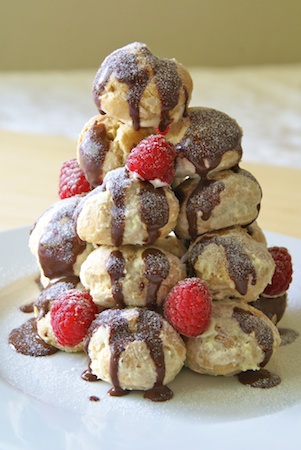 The May 2010 Daring Bakers' challenge was hosted by Cat of Little Miss Cupcake. Cat challenged everyone to make a pièce montée, or croquembouche, based on recipes from Peter Kump's Baking School in Manhattan and Nick Malgieri.
We know I often find the Daring Bakers challenges true to their name. I think this is the first time, however, that I actually cried.
It started well enough. The mixing and piping of the pâte à choux was not hard, after all the practice I got in school. The little puffs did their thing and puffed. I filled them with a raspberry diplomat cream I was pretty happy with (diplomat cream is a blend of pastry cream and whipped cream; the recipe follows).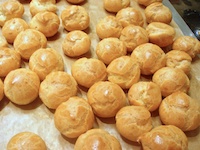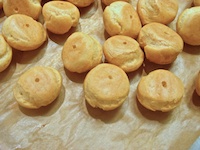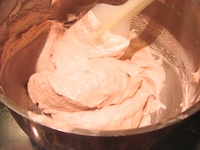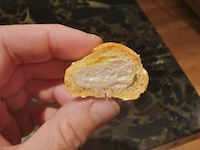 But what happened next was not pretty. Let's see… there was something about my wanting to use white chocolate to glue the whole thing together because I thought it would go better than caramel would with the raspberry filling, and last longer too. Something about melted white chocolate being slippery, not sticky, when wet. Something about every attempt at building some semblance of a cone resulting in a heap of increasingly-chocolate-encrusted-choux rubble. Something about the baker also becoming increasingly white-chocolate-encrusted and finally being reduced to a whimpering heap of rubble herself.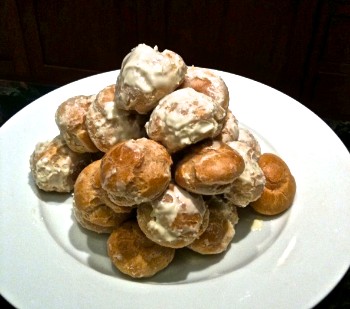 The good thing (which would have been an even better thing had I thought about it from the beginning) is that melted white chocolate does eventually become sticky enough to use as glue once it cools a little. Unfortunately by this time my choux were just looking pretty gruesome from their ordeal.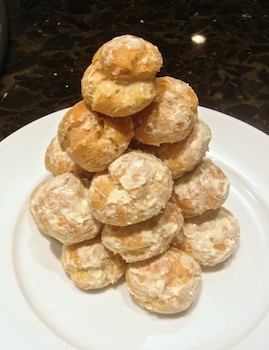 Nothing to do but try to camouflage the damage with chocolate glaze, raspberries the size of the Liberty Bell, and sucre neige. On the bright side, it tasted good.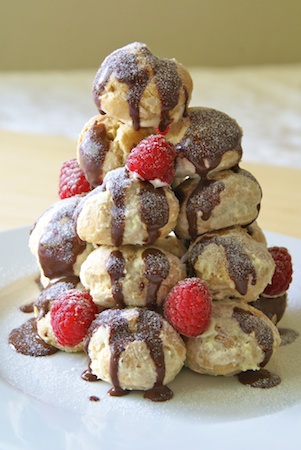 On the even brighter side, there are lots of DB pièces montées to gawk at today!
Raspberry Diplomat Cream
Ingredients:
300 g chilled raspberry pastry cream (recipe below)
150 g heavy cream
Method:
Whip the cream to soft peaks.
Whisk the pastry cream to loosen it, then fold the whipped cream into the pastry cream.
Raspberry Pastry Cream
Ingredients:
232 g whole milk
47 g egg yolk
47 g sugar, divided
16 g conrstarch
35 g butter at room temperature, cut into pieces
50 g raspberry puree, thawed
7 g (1.5 t.) raspberry or pomegranate liqueur
Method:
In a medium heat-proof bowl, combine the cornstarch and half of the sugar. Add the egg yolk and whisk gently to combine. (Avoid whisking vigorously as you don't want to incorporate air.)
Combine the milk and the rest of the sugar in a medium saucepan.
Heat the mixture over medium heat until it just starts to boil.
Pour one-third to one-half of the hot milk into the sugar/egg mixture, whisking constantly.
Whisk this mixture back into the milk in the pan, and return to medium heat.
Bring the mixture to a boil and cook for another two minutes, whisking constantly.
Remove from the heat and whisk in the butter until melted, then the raspberry puree and liqueur.
Pour into a small rimmed baking sheet lined with plastic wrap. Place more plastic wrap directly on the surface and refrigerate immediately. Use when cooled.