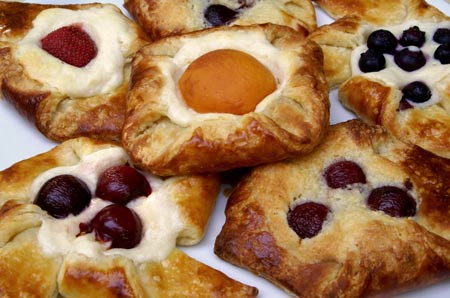 Like desserts, pastries are not something I bake often. We eat crusty hearth breads around the clock, including for breakfast. But for some reason, the BreadBakingDay #10 theme of Breakfast Breads, hosted this month by talented baker Melissa (Baking a Sweet Life), put me in mind of Danish pastry. The flakier the better.
I intended to make a traditional laminated dough (many discrete layers of dough and butter). I don't have a lot of experience with this, and definitely need to practice. Keeping the dough cold so the butter does not melt into it during the rolling and folding process is critical, and it takes the better part of a day because the dough has to be thoroughly re-chilled between roll-and-folds. So I set aside a day to work on this.
As it turned out, the weather on the designated day was uncooperative. A heat wave plus an un-air-conditioned kitchen do not create ideal conditions for laminating dough, and I chickened out wisely decided not to set myself up for failure. However, just as I convinced myself that I didn't really want Danish after all, I serendipitously tuned in to the latest episode of the wonderful 1990's series "Baking With Julia" [Child], which my PBS station has been airing lately.
Lo and behold, there was Scandinavian baking maven Beatrice Ojakangas, teaching Julia how to make Danish dough with a technique that achieves flakiness without traditional lamination.
The trick is to mix rather large chunks of butter directly into the dough. Although the dough and butter are maintained as distinct layers, the dough is still rolled and folded several times. This can be done all at once (or, if the dough warms up too much, as in my case, with a short chill between steps as needed). According to the series' companion cookbook, Baking With Julia by Dorie Greenspan, "this is the way it's done these days all over Denmark, where they know great Danish when they taste it."
Another interesting thing about this dough is that the mixing is extremely minimal, to avoid destroying the butter chunks. Therefore, any gluten development derives only from the rolling and folding.
I must say I didn't like this quite as much as properly laminated pastry. It was just not as crisp and flaky. I'm sure I would have done better on a cooler day, and if I were just more skilled at this, period. But I do think the minimal gluten development, as well as lack of true dough-butter-dough-(etc.) layers, played a role. Even so, these were fun to make and delicious to eat.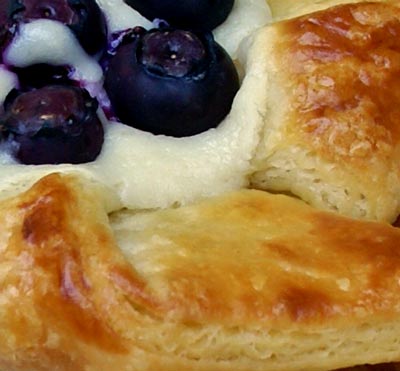 The entire "Baking With Julia" episode can be viewed on videos at the PBS website, and the recipe is also in the book. Once the dough was made, my method diverged from Ojakangas'; she encloses filling within the pastries, whereas I like mine on the outside. Also, I refrigerated my shaped pastries overnight so I could bake them fresh in the morning. I had to get up early, though, as this requires a 1.5-hour-or-so proof. According to the original recipe, immediately after shaping you can proof for 30 minutes, then fill and bake.
The cream cheese and almond fillings are adapted from ones I learned in SFBI's Viennoiserie course. The almond one is butter-based and melts quite a bit during baking (see the lower right pastry in the top photo). The cream cheese filling is better at maintaining its definition. Stone fruits and berries work very well with these fillings. You could use canned or frozen fruit, but nothing beats fresh.
Thanks to Melissa for an excellent theme this month. Check her blog in early June to see the BBD roundup of what's sure to be a brilliant collection of breakfast breads. And thanks, as always, to Zorra for being the grand keeper of BBD.
*****
Fresh Fruit Danish
Yield: 16 pastries
Time (once dough and fillings have been prepared):
Roll, cut, and shape: 30 minutes
Refrigerate: overnight (if you want morning pastries)
Proof: 1.5 – 2 hours (30 minutes if the dough has not been refrigerated)
Fill: 10 minutes
Bake: 10 – 13 minutes
Ingredients:
One recipe well-chilled pastry dough (recipe follows)
About one cup almond and/or cream cheese filling, at room temperature (recipes follow)
Fresh fruit of your choice: pitted cherries, blueberries, strawberries, apricot halves, etc.
One egg, lightly beaten (or egg left over from making cream cheese filling)
Method
Cut the dough in half to make two rectangles. While working with the first half, keep the second one chilled.
Roll one piece of dough into a 20 x 10-inch rectangle.
Trim the rectangle just enough to give it cleanly-cut edges. Cut the dough into eight pieces, each 5 inches square. I used a pizza cutter for this. If using a knife, cut straight down on the dough. Do not drag the knife through the dough; this makes the layers stick together.
Shape each piece as desired (see below) and place on a parchment-lined baking sheet. Depending on how you shape, you will need two or three baking sheets to accommodate all 16 pastries.
Brush lightly with egg. Try to avoid washing the cut edges of the dough, as this tends to glue them together. Reserve the extra egg.
Repeat with the other half of the dough. Cover with plastic wrap or slip into a large bag, and refrigerate overnight.
In the morning, remove the pastries from the refrigerator and let them proof, still covered, for about 1.5 – 2 hours, until they feel light and puffy.
Meanwhile, space two racks evenly in the oven and preheat on the convection setting to 375F. (If you don't have convection, preheat to 400F. You may have to rotate the baking sheets halfway through baking.)
Brush the pastries again with egg.
With wet fingers, make a depression in the center of each pastry. Fill with about one tablespoon of filling, and press fruit of your choice into the filling. If using multiple pieces of fruit, crowd them as closely as possible; they will spread during baking.

Bake for 10 – 13 minutes, until the pastry is flaky and golden brown.
*****
(adapted from recipe by Beatrice Ojakangas on "Baking With Julia")
Yield: 16 pastries
Time:
Bring milk and egg to room temperature: about 30 minutes
Mix and chill: 8 hours to 4 days
Roll and fold: 20 minutes (longer if dough warms and needs to be re-chilled between folds)
Chill: 30 minutes to 4 days
Ingredients:
57 g warm water (110F)
120 g milk, at room temperature
50 g (one large) egg, at room temperature
5.8 g (generous 1-3/4 t.) instant yeast (original recipe calls for 2.5 t. active dry)
50 g sugar
6 g (1 t.) salt
330 g all-purpose flour
226 g cold unsalted butter
Method:
In a large bowl, whisk together the water and yeast. Let stand for a minute, then whisk in milk, egg, sugar, and salt.
Place the flour in the bowl of a food processor. Cut the cold butter into 1/4-inch slices and add to the flour. Pulse the processor briefly about 10 times, until the butter is cut into pieces of approximately 1/2-inch diameter. Don't overprocess!
Add the flour and butter mixture to the wet ingredients. Fold with a rubber spatula until the liquid ingredients are just barely incorporated. The dough will be very rough and chunky with butter.
Cover the bowl and chill the dough for at least 8 hours and up to 4 days.
Turn the dough onto a floured surface; a cool stone or metal counter is best, if you have one. Sprinkle the dough lightly with flour and pat it into a roughly square shape. With a rolling pin, roll the dough into a 16-inch square. Fold it into thirds, letter-style
Roll the dough into a 24-inch by 10-inch rectangle. Again fold the dough in thirds so you have a 8 x 10-inch rectangle. (At this point, my dough was getting a bit warm and flabby and so I wrapped it in plastic and returned it to the refrigerator for about 45 minutes.)

Roll the dough into a 20-inch square and again fold in thirds.
Roll the dough into a 24 x 10-inch rectangle. Fold into thirds to end up with an 8 x 10-inch rectangle.
Wrap in plastic, and chill for at least 30 minutes, or up to 4 days.
*****
Yield: About 1-1/3 cups
Time: 5 minutes

Ingredients:
226 g cream cheese
113 g sugar
19 g butter, at room temperature
28 g flour
21 g egg, lightly beaten, at room temperature (This is a little less than half a large egg. Save the rest of the egg to wash the pastries.)
4.5 g (1 t.) vanilla extract
Method:
Soften the cream cheese with a hand mixer on low speed.
Add the butter and beat on medium speed until incorporated.
Add the sugar in three portions, mixing well after each addition.
Beat in the egg, then the vanilla.
This can be made ahead and refrigerated for several days. Bring it to room temperature before using.
*****
Yield: About 1-1/2 cups
Time: 5 minutes

Ingredients:
112 g butter at room temperature
112 g sugar
112 g almond meal (or you can grind blanched almonds finely in a blender or food processor)
35 g flour
50 g (one large) egg, lightly beaten, at room temperature
3.4 g (3/4 t.) rum
Method:
Blend flour and almond meal together.
With a hand mixer, cream butter and sugar in a medium bowl.
Add the egg little by little, mixing well after each addition.
Beat on medium speed until light.
Add the flour/almond meal mixture and mix until incorporated.
Add the rum and mix well.
This can be made ahead and refrigerated for several days. Bring it to room temperature before using.
*****
Each 5-inch square of dough makes one pastry. I made three different shapes:
The two-corner fold: fold two opposite corners in to meet in the center.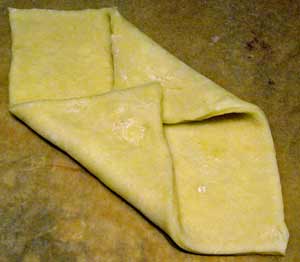 The four-corner fold: fold all four corners in to meet in the center. Leave a little space between the folded edges.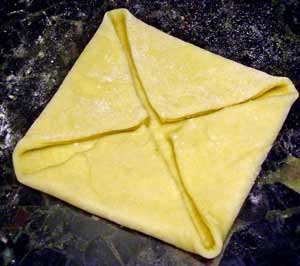 The pinwheel: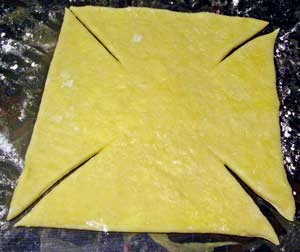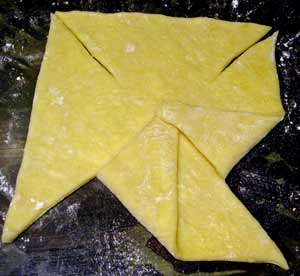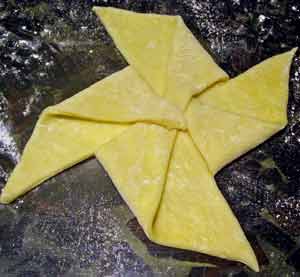 Use a dry pastry brush to lightly brush any excess flour from the dough after shaping.
*****