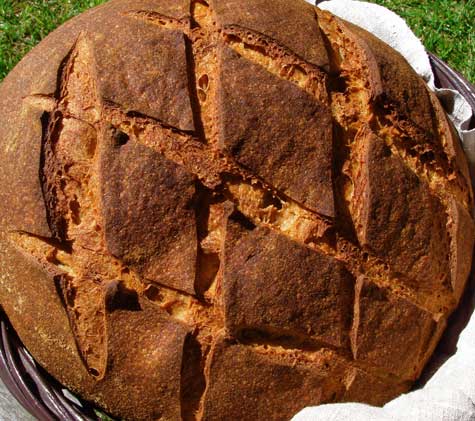 A few days ago I brought one of these miches to dinner at the home of people I'd never met before. In retrospect, this was one of those "what was I thinking?" ideas, because it could have been awkward if they had turned out to be bread wimps. Luckily, they weren't, or they were very gracious about hiding it. Huge and chewy and sour, with a crust so dark it might be mistaken for burned by the uninformed, this miche is some serious bread.
I've had trouble pinning down the exact definition of "miche" (French slang for "butt-cheek," according to Daniel Leader's Local Breads). I believe that nominally it is a large, round, somewhat flattened loaf, but beyond that it seems that most breads that call themselves miches involve sourdough and a substantial proportion of whole-grain or high-extraction flour.
For this miche, I used Golden Buffalo, a high-extraction flour from Heartland Mill. White flour is milled from the inner endosperm of the wheat kernel. In contrast, high-extraction flours contain some of the bran and/or germ of the wheat, but not necessarily all of it (that would be whole wheat flour). A reasonable improvisation for the high-extraction flour in this recipe would be to get some coarse whole wheat flour and sift it to remove the large bran particles.
While this bread looks like it takes more than a day-and-a-half to make, most of that is simply building up the levain (sourdough), which requires no more than a brief mixing of ingredients. This bread is a little unusual in that the final dough contains a large proportion of levain, compensated with a short first fermentation. And notice that the building of the levain includes the somewhat atypical addition of salt. Because the fermentation time of the levain is quite long, the salt slows the yeast down a bit and helps prevent over-fermenting.
You'll need a 10- or 11-inch bowl or basket for this. A colander, salad bowl, or shallow mixing bowl lined with linen or a non-terry cotton towel are all fine candidates if you don't have a large banneton.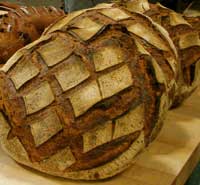 For the miche pictured above, I used very little flour for dusting the linen lining the bowl. A heavier dusting will produce something more like this, which is also very handsome. (Photo from my Advanced Breads course at SFBI, from which this recipe is adapted.) The diamond scoring pattern is traditional, but you can do an initial, or anything else that strikes you.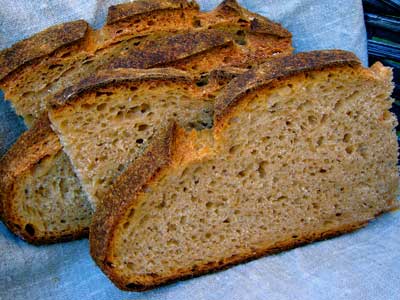 High-Extraction Miche
Yield: 1800 g (one large loaf)
Time:
Mix and ferment levain (first feeding): 16 hours
Mix and ferment levain (final build): 8 hours
Mix final dough: 30 minutes
First fermentation: 45 minutes
Divide and shape: 5 minutes
Proof: 2.25 hours at room temperature, then 12 hours in the refrigerator
Bake: 1 hour
Desired dough temperature: 76F
Levain (first feeding) ingredients:
80 g high-extraction flour (I used Heartland Mill Golden Buffalo)
96 g water at about 70F
0.5 g salt (1/16 t.)
8 g ripe 100%-hydration sourdough starter
Levain (final build) ingredients:
462 g high-extraction flour
554 g water at about 70F
2.8 g salt (1/2 t.)
all of the levain from the first feeding
Final Dough Ingredients:
314 g white flour
105 g high-extraction flour
105 g whole rye flour
95 g cool water (about 50F)
20 g salt
All of the levain from the final build
Method:
In a small bowl, mix the levain (first feeding) ingredients until just combined. Cover the bowl and let the levain ferment at room temperature for 16 hours.
In a large container, mix the levain (final build) ingredients until just combined. Cover the container and let the levain ferment at room temperature for 8 hours.
Mix the final dough ingredients in a stand mixer on low speed until the ingredients are well incorporated, about 4 or 5 minutes. Use enough water so that the dough has a medium consistency.
Cover the dough with a towel and let it rest for 15 minutes.
Continue mixing on low speed until the dough reaches a low-medium level of gluten development. This might take 4 or 5 minutes, but will depend on your mixer.
Transfer the dough to a well-oiled container.
Ferment at room temperature for 45 minutes.
Shape the dough into a tight ball and place it, seam side up, into a large linen-lined, flour-dusted bowl or basket. Press the dough to flatten the ball a little.
Slip the bowl into a large plastic bag, or otherwise cover it.
Proof for about 2 hours and 15 minutes at room temperature, or until the loaf seems not quite fully proofed. Then refrigerate it for 12 hours.
Preheat the oven, with baking stone, to 425F. You will also need steam during the initial phase of baking, so prepare for this now.
Remove the miche from the refrigerator about 45 minutes before baking.
Just before baking, score the miche as you like.
Bake for 10 minutes with steam, and another 35 minutes or so without steam. The crust should be a very dark brown. Then turn off the oven and leave the loaf in for another 15 minutes, with the oven door ajar.
Cool on a wire rack. Wait until completely cool to cut and eat. This will take several hours.