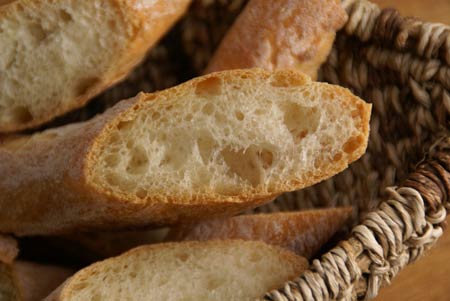 Do I really need to tell you I was ecstatic when Mary (The Sour Dough) and Sara (I Like to Cook) chose Julia Child's Pain Français (French bread) as this month's Daring Bakers challenge?
Probably not. But you may be surprised (or not) to know that, as iconic as both French bread and Julia Child are, and as much as I love to bake bread, I have never attempted this particular rendition of French bread before.
And I have to say that reading through the recipe gave me some pause. It wasn't the 17+ pages of instructions, which include some very helpful notes from Mary and Sara. No, it was that this recipe has a few differences from French baguettes I've done before.
First of all, it's a straight dough. That is, it calls for no preferment (poolish, sponge, sourdough, etc.), relying instead on a very long fermentation time of the final (and only) dough to develop flavor. I'm a fan of preferments and use them often. Straight doughs, not too much.
Second, the hydration (i.e., amount of water) is a bit higher than what I've used for baguettes before. I'm accustomed to a hydration of around 68%, that is, 68 grams of water per 100 grams of flour in the dough. With 490 grams of flour and 355 of water, this recipe is up around 72% hydration. Now to be honest, the way I usually bake bread is to use water (not flour) to adjust the dough consistency to what "feels right" to me. But on one day a month I am bound by Daring Baker rules, which mandate exact following of the recipe. So 490 g of flour and 355 g of water it would have to be.
Also, I questioned the amount of salt in the recipe. (Will I have a mob coming for me after dark for questioning Julia?) 2% of the flour weight is typical for most breads, including baguettes as I was taught to make them. This recipe calls for 12 g of salt, or 2.4%. Would the bread taste too salty? But again, Daring Bakers rules ruled the day.
There was a tempting loophole that might have addressed both the water and salt issues: additional flour could be added during mixing if the dough felt sticky. But I couldn't truthfully say it did feel exactly sticky, so I didn't add any, even though I wanted to. Yes, I am that painfully honest. I don't want there to be any skeletons in my closet if I ever decide to run for public office.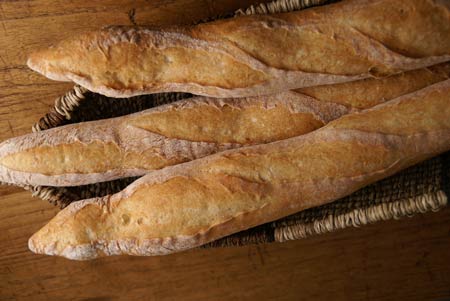 I made three ficelles (short baguettes) with half the dough, and six mini-epis with the other half. I didn't do a spectacular job on shaping either, and had some trouble with the slashing of the ficelles. I don't believe the dough was overproofed, which can cause slashing woes, and even though I admit I don't have mad slashing skills, I do think the relatively high hydration of the dough rendered these cuts particularly challenging.
Even so, the texture of the bread was extremely outstanding. The crust was thin, crisp, "singing" (audibly crackling as it cooled and made cracks in the crust), and the crumb was light and open. Oh. My. Goodness.
The flavor was excellent also; that long fermentation did its job well. I do think it was just a tiny bit salty for my taste, and if I make it again I will cut the salt back to, say, 10 grams and see what happens. But overall, I really loved this bread.