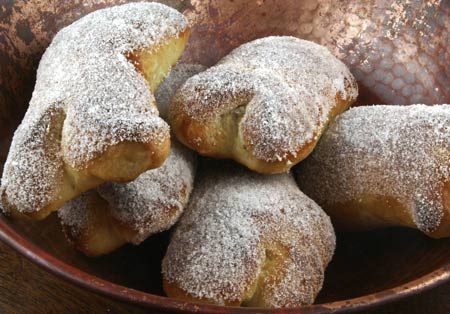 Pan de Muerto, the sweet bread traditionally made for Mexico's Día de los Muertos (Day of the Dead), is typically shaped into a round loaf and decorated with huesitos (little bones). In a variation on the theme, I made this "bread of the dead" into individual bone-shaped rolls.
Because the dough is rich and soft, the shaping is a bit tricky. I suggest dividing the chilled dough into the individual roll portions, rounding them into balls, and chilling them again for an hour or so before the final shaping. Periodically cooling your hands on an ice pack while shaping is helpful.
The bones are shaped by rolling a log with knobby ends, then using a sharp knife to make a small cut in each end, forming the condyles (for all you anatomy geeks). I rolled my bones about four inches long; in the future, I would shape them longer and thinner, as they expand outward considerably (but not much lengthwise) during proofing.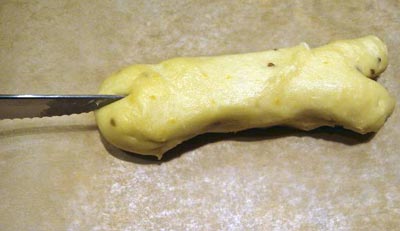 Pan de Muerto Bones
Yield: 18 rolls
Time:
Mix: 30 minutes
First fermentation : 1 hour with folds at 30 and 60 minutes, then overnight in the refrigerator
Divide, Chill, Shape: 1.5 hours
Proof: 2 – 2.5 hours
Bake: 15 minutes per sheet of 6 rolls
Desired dough temperature: 77F
Dough Ingredients:
667 g flour
133 g cold water
13 g instant yeast (preferably osmotolerant)
13 g salt
33 g milk powder
200 g (4 large) eggs
finely grated zest of one orange
33 g fresh orange juice
3 g (1 t.) anise seed
133 g sugar
200 g butter, cut into 1/2-inch cubes, softened
Topping Ingredients:
one egg, lightly beaten
clarified butter
granulated sugar
Method:
Place all of the dough ingredients, except the butter and about 80% of the sugar, in the bowl of a stand mixer. Mix in low speed until well combined. The dough will be quite stiff at this point.
Mix for several minutes in medium speed, until the gluten starts to develop. Then add the remaining sugar in 4 or 5 increments, mixing for three or four minutes between each addition.
Continue mixing in medium speed until the gluten is almost fully developed.
Add the softened butter all at once. Mix for a minute in low speed, then in medium speed until the butter is completely incorporated.
Transfer to a buttered, covered container. Ferment at room temperature for one hour, folding the dough at 30 minutes and again at one hour. Then refrigerate overnight (a minimum of 6 hours).
Divide the chilled dough into 75-gram portions and round each into a ball. Place the balls back into the refrigerator for at least one hour.
Shape the chilled dough balls into bones as described above and place them on three parchment-lined baking sheets. Brush them lightly and evenly with egg.
Proof, covered, at room temperature for two hours. (Because the sheets are baked one at a time, the second and third sheets will proof for longer. This should not be a problem.)
Meanwhile, preheat the oven, with the rack in the center, to 400F.
Before baking, again brush the bones lightly with egg wash.
Bake for 15 minutes, until the tops are a deep brown.
Cool on a wire rack until handle-able. While still warm, brush the tops of the bones with clarified butter and dip in granulated sugar.