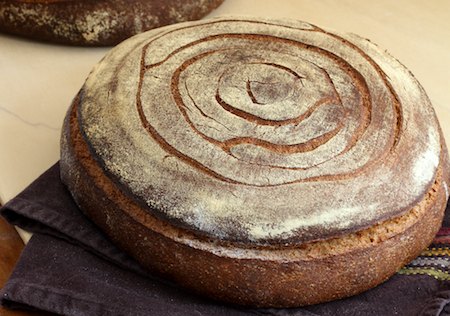 Made any French bread lately? I'm not talking about a baguette, but about the original French bread — the huge, heavy, country sourdough round known as a miche. With its dense crumb, tangy flavor, and thick, dark, chewy crust, a miche is about as far from a baguette as you can get, and it was the staple bread in France long before the white-flour interloper arrived from Vienna in the mid-19th century.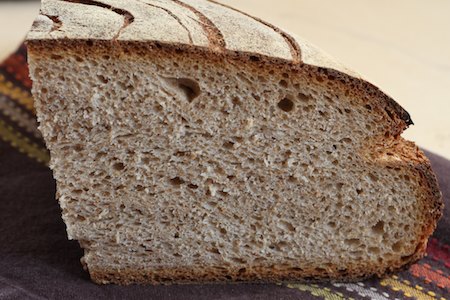 Miches can be scored in a variety of ways, including a diamond pattern, a simple box score, or an initial. Because its top is rather flat, a miche also serves as a nice surface for a flour stencil (the ones in the bottom right photo — Golden Gate bridge and cable car — are from our SFBI graduation party).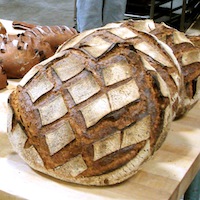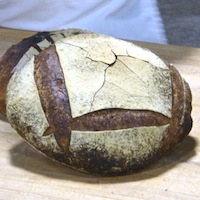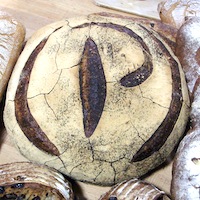 I experimented with a different surface embellishment. The spiral pattern is not scored; rather, I used about 500 grams of the dough to roll two or three ropes, about an inch in diameter, that I coiled in the bottom of a 10.5-inch flat-bottomed, linen-lined and floured basket.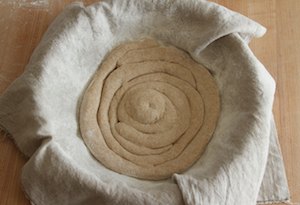 Then I shaped the remaining dough into a boule and laid it, smooth side down, onto the coil, making sure all the loose flour on the dough was brushed away so the two parts would not separate during baking.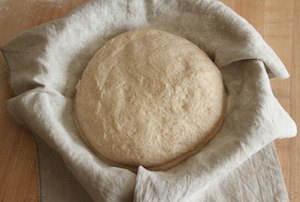 After proofing, the loaf was inverted onto my peel (here,a Super Peel), and it looked like this: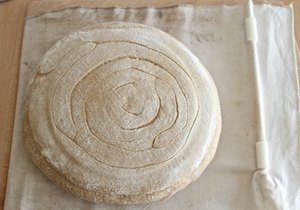 Miche with Whole Wheat Starter
Yield: 1700 g (one large miche)
Time:
Mix: 10 minutes
First fermentation : 2 hours, with a fold at 1 hour
Shape: 5 minutes
Proof: 1.5 – 2 hours
Bake: 70 minutes
Desired dough temperature: 78F
Starter Ingredients:
250 g whole wheat flour
150 g water
50 g mature 100%-hydration sourdough starter
Final Dough Ingredients:
411 g flour
149 g whole rye flour
187 g whole wheat flour
19.4 g salt
all of the whole wheat starter
531 g water (you may need more or less)
Method:
In a bowl, combine the starter ingredients. Cover and let rest for 8 – 12 hours, until at least doubled in size.
In the bowl of a stand mixer fitted with a dough hook, combine all of the final dough ingredients except about 10% of the water. Mix in low speed to incorporate all of the ingredients, adding more water as needed to achieve a medium dough consistency.
Continue mixing in low or medium speed to a low-medium level of gluten development.
Transfer the dough to a lightly oiled container. Cover and ferment for 2 hours, with a fold after the first hour.
Turn the dough into a lightly floured counter. Shape the dough into a round, or a spiral-topped round as shown above, and place it into a well floured, linen-lined, flat-bottomed basket.
Proof, covered, for 1.5 – 2 hours, until the indentation left by the light press of a fingertip springs back very slowly.
Meanwhile, preheat the oven, with baking stone, to 500F. You will also need steam during the initial phase of baking, so prepare for this now.
Just before baking, slash the miche (this not necessary with the spiral top).
Once the miche is in the oven, reduce the temperature to 450F. Bake for 10 minutes with steam, and another 50 minutes or so without steam. The crust should be a very dark brown. Then turn off the oven and leave the miche in for another 10 minutes, with the door ajar.
Cool on a wire rack.