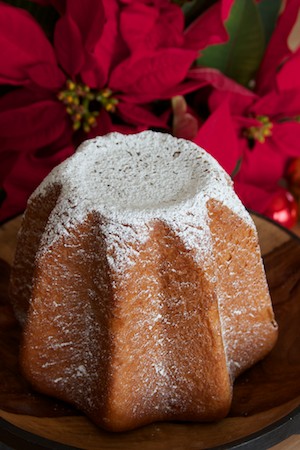 2012, be warned: 2011 is a tough act to follow. The beautiful and exciting things that came my way in 2011 are too numerous to count, but Number Two on the list has to be the trip Jay and I took to Morocco and Venice in November (with Number One being our wedding a month later). And while the highlights of that trip are also too numerous to count, our day in Verona is on that list for sure.
The charming city of Verona is an easy 80-minute train ride from (equally charming) Venice, and we thought it would make a lovely day trip. Jay was thinking history, culture, architecture, photography. I — obviously! — was thinking Pandoro pans. I have been coveting genuine Italian pans for this star-shaped golden holiday bread forever, and they just can't be found in the US. But Pandoro originated in Verona, so I was sure I could find some there.
And find them I did, but that wasn't the best part. The best part was how I found them. I remembered that the lovely and talented Cinzia also hails from Verona, and when I emailed her to ask about where I might buy the pans, she not only came through with the name of a shop (Plurimix), but she came into the city to meet us! Over lunch and a slice of Nadalin (another Veronese holiday bread, reportedly the forerunner of Pandoro), I found Cinzia to be every bit as warm and delightful as her blog.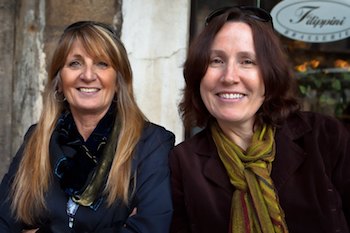 And that, my dear friends, is the real pleasure I derive from writing this blog: connecting with wonderful people all over the globe, whether face-to-face or through virtual pathways.  I can't think of a nicer way to observe BreadBakingDay — the monthly event that celebrates baking and breaking bread together — than with Pandoro dedicated to Cinzia (who happens to be hosting BBD this month, too!), Zorra (creator of BBD), and all of my bread-baking friends everywhere.
Please read my previous post on Pandoro for some notes that might be helpful in the baking of this rather involved bread. As before, my kitchen was cooler than the ideal 72F, so I didn't have time to let the dough proof quite as much as it should have; ideally it would be to the tops of the pans when it's put in the oven. But oven spring is a beautiful thing.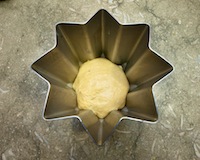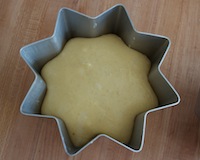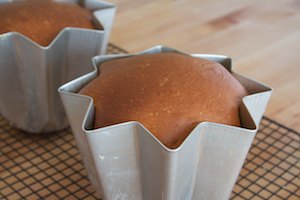 Pandoro
(Adapted from SFBI)
Yield: 1000 g (2 loaves)
Time:
Develop the sweet starter (assuming you start with a healthy sourdough starter): every 4 hours for 2 days, at 85F
Mix and ferment first and second doughs (approximately simultaneously): 2 hours at 85F
Mix and ferment third dough: 3 hours at 85F
Mix final dough: 30 minutes or more
Ferment final dough: 2 hours
Proof in pans: 14 – 18 hours or more at room temperature
Bake: 35 minutes
First Dough Ingredients:
Second Dough Ingredients:
41 g flour
0.8 g (1/4 t.) osmotolerant yeast (see note above)
27 g egg
8 g sugar
Third Dough Ingredients:
60 g flour
26 g egg
12 g sugar
3 g butter, softened
all of the first dough
all of the second dough
Final Dough Ingredients:
166 g butter, softened to pliability (not melted)
10 g cocoa butter, finely chopped (optional, or use white chocolate)
seeds scraped from 1/2 vanilla bean
219 g flour
5.3 g (7/8 t.) salt
10 g honey
all of the third dough
166 g egg
106 g sugar
Additional Ingredients:
melted butter, for brushing the pans
powdered sugar for topping
Method:
Mix all of the first dough ingredients together with your hand until they are evenly incorporated. Use a dough scraper to salvage excess dough left on your hand. Cover the dough and ferment in a warm place (about 85F) for two hours.
Meanwhile, mix the second dough in the same manner and ferment it for 1.5 hours at 85F. Time things so the first and second doughs finish fermenting at the same time.
When the first and second doughs are ready, mix the third dough, again by hand just until the ingredients are incorporated. Ferment it for 3 hours at 85F.
Before mixing the final dough, beat the butter with the vanilla seeds in a stand mixer with a paddle until it is light. Add the chopped cocoa butter and stir it in briefly.
In a stand mixer with a dough hook, combine the final dough flour, salt, honey, third dough, and half the egg. Mix on slow speed until the ingredients are incorporated, about 4 or 5 minutes. The dough will be stiff.
Add a third of the sugar and continue mixing on slow speed until it is incorporated into the dough.
Turn the mixer to medium speed and continue mixing for a few minutes to start to develop the gluten.
Add about 1/4 of the remaining egg. Continue mixing in medium speed until it is completely mixed into the dough and a minute or so longer.
Add about 1/4 of the remaining sugar and continue mixing until fully incorporated and another minute longer.
Repeat the above two steps until all of the egg and sugar have been added.
Continue mixing in medium speed until gluten has reached full development.
Turn the mixer back to low speed and add the prepared butter mixture all at once. Continue on low speed until the butter is completely mixed into the dough and you can see the dough pulling away from the bottom of the bowl.
Transfer the dough to a lightly buttered container. Cover and ferment for 2 hours, with a fold after the first hour.
Meanwhile, brush your pans well with melted butter. Make sure you cover all the nooks and crannies of the pans.
Turn the fermented dough onto a lightly buttered counter. Divide it into two pieces of 500 g each.
Shape the dough into tight balls and place them, seam-side-down, into the buttered pans.
Proof, covered, for 14 – 18 hours or more at room temperature (72F is ideal), until the top of the dough dome is at the level of the top of the pan.
Meanwhile, preheat the oven to 325F on convection setting or 350F on regular bake. You will also need steam during the initial phase of baking, so prepare for this now.
Bake for 5 minutes with steam, and another 30 minutes or so without steam. The loaves should be a rich golden brown and their internal temperature should be 185F.
Cool in the pans for 30 minutes, then invert on a wire rack and cool completely.
Sift powdered sugar on the tops of the loaves before serving.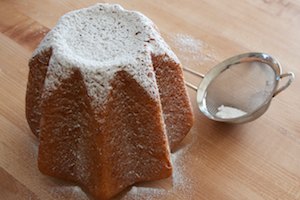 Note: These instructions assume you are starting with a vigorous "regular" sourdough starter. If you don't have a starter yet, here's how to start one.
If you are starting with a stiff (50%-hydration) starter, skip to step 2. If starting with a liquid (100%-hydration) starter, convert it to 50% by combining 40 g starter with 20 g flour. Ferment for 4 hours at 85F.
For each subsequent feeding (except the final one), discard all but 28 g starter, and add 20 g flour and 10 g water. Ferment for 4 hours at 85F. Repeat for about 2 days.
For the final feeding (4 hours before you will use it in the first dough), combine 56 g starter, 40 g flour, and 20 g water. Ferment at 85F. You will need 96 g for the first dough.