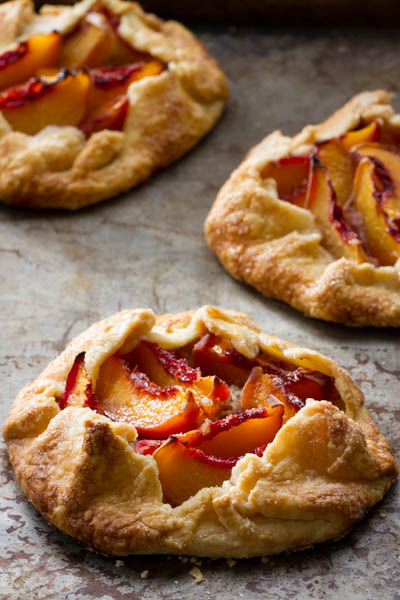 Galettes. These rustic free-form tarts — nothing more than flaky crust folded casually around juicy fruit — are the quintessential summer pastry. Just about any seasonal berries or stone fruits will work, but nothing is more beautiful than red-rimmed golden peach slices.
My individual-size galettes were based on Tartine's method, which could not be simpler: roll out crust, place naked fruit, sprinkle with a little sugar, fold, and bake. (If you don't have the book, get it; Tartine's galette crust recipe alone is worth the dough. Thanks, I'll be here all week.)
For each galette, I used about 110 grams of crust dough, one (unpeeled) medium peach cut into eight slices, and a teaspoon of sugar. I also added an experimental element: a layer of fine dry breadcrumbs (Norwich Sourdough, of course), which was intended to absorb the peach juices, adding another textural component to the filling and preventing the flaky crust from becoming soggy.
The crumb concept turned out to be good. The crust was as flaky and tender and un-soggy as I could have hoped for. The juice-soaked crumbs yielded, in some places, a pudding-like layer between peaches and crust. However, my peaches, while ripe and sweet, did not release quite enough juice to completely soak the two tablespoons of crumbs I allotted to each tart, so in places they remained a bit dry. The galettes were still perfectly (more than perfectly, to be honest) delicious, but next time I will reduce the amount of crumbs unless the fruit is exceptionally juicy. I might also try replacing some of the crumbs with ground nuts for a little flavor variation.