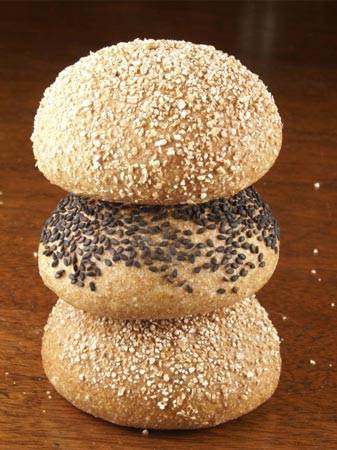 I don't know about your neck of the woods, but around here it's getting pretty warm, and that means grilling. And that means you'll be needing some buns.
I already have a great bun recipe, but I wanted some that are sourdough-leavened (since my starter has been feeling a bit neglected lately) and that contain a hefty portion (about 84%) of whole wheat. These were an experiment that turned out rather well. They are definitely soft (from the honey and the butter), but a bit denser — and more flavorful, if you ask me — than your average hamburger bun.
In case your grill is still buried under a foot of snow (I'm so sorry!), the buns are good for sloppy joes, too.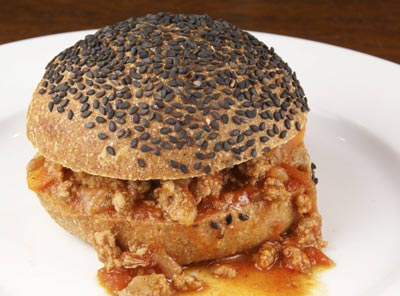 These go to Zorra (1x umrühren bitte) and Rachel (Tangerine's Kitchen) for BreadBakingDay #28, Buns.

Sourdough Whole Wheat Hamburger Buns
Yield: 900 g (9 buns)
Time:
Mix: 15 minutes
First fermentation : 2.5 hours with folds at 50 and 100 minutes
Preshape, rest, and shape: 30 minutes
Proof: about 3 hours
Bake: about 30 minutes
Desired dough temperature: 76F
Ingredients:
433 g whole wheat flour
300 g water
10 g salt
37 g honey
27 g butter, softened
170 g mature 100%-hydration sourdough starter
wheat bran and/or seeds for topping
Method:
In the bowl of a stand mixer with a dough hook, combine all of the ingredients except about 30 grams of the water.
Mix on low speed until the ingredients are incorporated, about 4 minutes. The dough should have a medium-soft consistency at this point; if it does not, add a bit of the reserved water.
Continue mixing in medium speed until the gluten has reached nearly full development (check this with the windowpane test).
Once the gluten is developed, add the rest of the reserved water and continue mixing until all of the water is incorporated. This will yield a soft but strong dough.
Divide the dough into nine pieces of approximately 100 g each.
Press each piece firmly to degas it, then shape into a tight ball. The easiest way to do this is to tuck the edges of the degassed dough under, pinch the seam closed, and cup your hand over the dough while rolling it in a circle against the unfloured countertop.
Roll the top of the ball on a wet towel to moisten it, then in bran or seeds.
Place the rolls on two parchment-lined baking sheets and press them down into discs with the palm of your hand.
Cover the sheets and proof the rolls at room temperature for about 3 hours, or until the dough springs back very slowly when pressed with a fingertip.
Meanwhile, preheat the oven to 400F, with racks in the middle and top thirds. You will also need steam during the initial phase of baking, so prepare for this now.
Bake for 8 minutes with steam, and another 20 – 25 minutes without steam, until the rolls are nicely browned. Rotate the baking sheets about halfway through to ensure even browning.
Cool on a wire rack.