These golden orange loaves are an adaptation of a recipe found on straightgrade.com, a wonderful resource geared towards professional bread bakers but with much great information for anyone who loves to bake. There, Tod Bramble highlights bakers and bakeries around the US and occasionally shares one of their formulas. This Spelt-Carrot bread is originally from B & R Artisan Breads in Framingham, Massachusetts. Thanks to Jeremy for calling my attention to this unique and delicious bread!
The dough is a dream to work with, light and supple and fragrant. I almost didn't want to bake it, I just wanted to keep my hands and my nose in the dough forever.
I suggest is letting the bread sit for about four hours after baking to let the flavors mellow. I found that when I tasted it just as it was cool (at about two hours), it had a slight bitter taste to it. After another couple of hours, however, that was gone and the bread tasted sweet and nutty and golden.
It made a lovely sandwich too.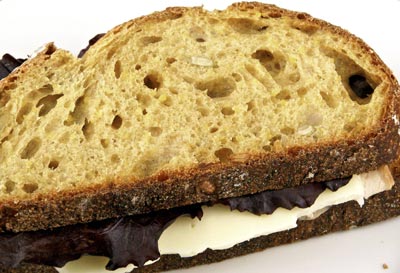 The original recipe calls for corn grits. I have seen various things that call themselves grits, so I used what I had on hand, which was Bob's Red Mill's "Corn Grits also known as Polenta," which is just coarsely ground corn. I was concerned that it might give the crumb a gritty (so to speak) texture, but it didn't.
Spelt-Carrot Bread
(Adapted from B & R Artisan Bakers' formula, as published on straightgrade.com)
Yield: 2000 g (2 – 4 loaves)
Time:
Soak soaker and ferment sponge and spelt levain: 10 – 12 hours
Mix final dough: 10 minutes
First fermentation : 2 hours with folds at 40 and 80 minutes
Preshape, rest, and shape: 30 minutes
Proof: about one hour (or can be retarded)
Bake: 35 – 40 minutes
Desired dough temperature: 75F
Corn Soaker Ingredients:
163 g coarse polenta
114 g boiling water
Sponge Ingredients:
235 g flour
160 g water
0.2 g (1/16 t. or a small pinch) instant yeast
Spelt Levain Ingredients:
235 g whole spelt flour
188 g water
47 g 100%-hydration rye starter
Final Dough Ingredients:
470 g flour
268 g carrot juice
0.5 g (generous 1/8 t.) instant yeast
26 g salt
92 g pumpkin seeds
All of the sponge (395 g)
All of the spelt levain (470 g)
All of the soaker (277 g )
Method:
For the soaker, pour boiling water over polenta. Cover and let rest for 10 – 12 hours.
For the sponge and the spelt levain, mix each of their respective ingredients until well combined. Cover and ferment each for 10 – 12 hours.
In the bowl of a stand mixer with dough hook, combine all of the final dough ingredients except the corn soaker and the pumpkin seeds. Mix in low speed to incorporate everything. Adjust the water as needed to achieve a medium-consistency dough.
Continue mixing in low or medium speed to a medium level of gluten development.
Add the soaker and pumpkin seeds and mix in low speed just until they are fully incorporated.
Transfer the dough to a lightly oiled container. Cover and ferment for 2 hours, with folds after the first 40 and 80 minutes.
Turn the dough onto a lightly floured counter. Divide into pieces of 450 – 1000 grams (I made two of 470 g each and one of 960 g).  Preshape the pieces into balls and let them rest, covered, for 20 minutes.
Shape the dough into batards and place them, seam-side-up, into floured brotforms or linen-lined baskets.
Proof, covered, for about one hour at room temperature. Alternatively, proof for 15 minutes at room temperature, then refrigerate for 1.5 hours.
Meanwhile, preheat the oven, with baking stone, to 475F. You will also need steam during the initial phase of baking, so prepare for this now.
Just before baking, slash the loaves two or three times, almost parallel to their long axis.
Once the loaves are in the oven, reduce the temperature to 450F. Bake for 10 minutes with steam, and another 15 – 20 minutes (depending on the loaf size) without steam, until the crust is golden brown. Then turn off the oven and leave the loaves in for another 10 minutes, with the door ajar.
Cool on a wire rack.