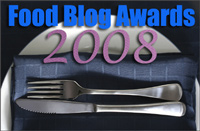 The judges for Well Fed Network's 2008 Food Blog Awards have announced their finalist picks, and I'm delighted and honored that Wild Yeast is among five in the running for Best Food Blog – Theme. Thank you to Well Fed, and to Margie (CoffeeGrounded), who nominated me.
If you'd like to cast a vote for Wild Yeast or one of the other excellent theme blogs — Lunch In a Box, Karina's Kitchen, Prudence Pennywise, and Hunter Angler Gardener Cook — the polls are open until 8PM EST on January 24.
Also, be sure to take a look at the 13 other categories, where you'll no doubt find some of your already-favorite blogs as well as some new gems to whet your appetite.
Thank you for voting, for reading, and for making this blog so much fun to write!